Ted Healy (October 1 1896 – December 21, 1937)
Ted Healy, born Charles Ernest Lee Nash on October 1, 1896, in Kaufman, Texas, was a famous American vaudeville performer, comedian, and actor. He played a pivotal role in the early days of Hollywood comedy. He's now most famous for assembling three Stooges, planted in the audience — the iconic trio of Moe Howard, Larry Fine, and Curly Howard, who would later become known as The Three Stooges. Ted Healy's life and career were marked by immense talent and tragedy
Early Life
Ted's family relocated to New York City. He attended high school at De La Salle Institute in Manhattan, New York City. Their see became friends with Bryan Foy of "The Seven Little Foys". And he was bitten by the acting bug, although he had initially planned to go into business. In 1912, he met and worked with Moe Howard in a water comedy show that featured swimmer Annette Kellerman. However, the act dissolved after a tragic accident when a young female swimmer misjudged a dive and broke her neck.
Vaudeville Stardom
On June 5, 1922, Ted married Betty Brown. She became his partner on stage as well, Ted's vaudeville act beecame "The Flapper and the Philosopher". And by 1924, he introduced actors in the audience, who acted as hecklers and would then join him on stage. Commonly known as "stooges".
The Birth of The Stooges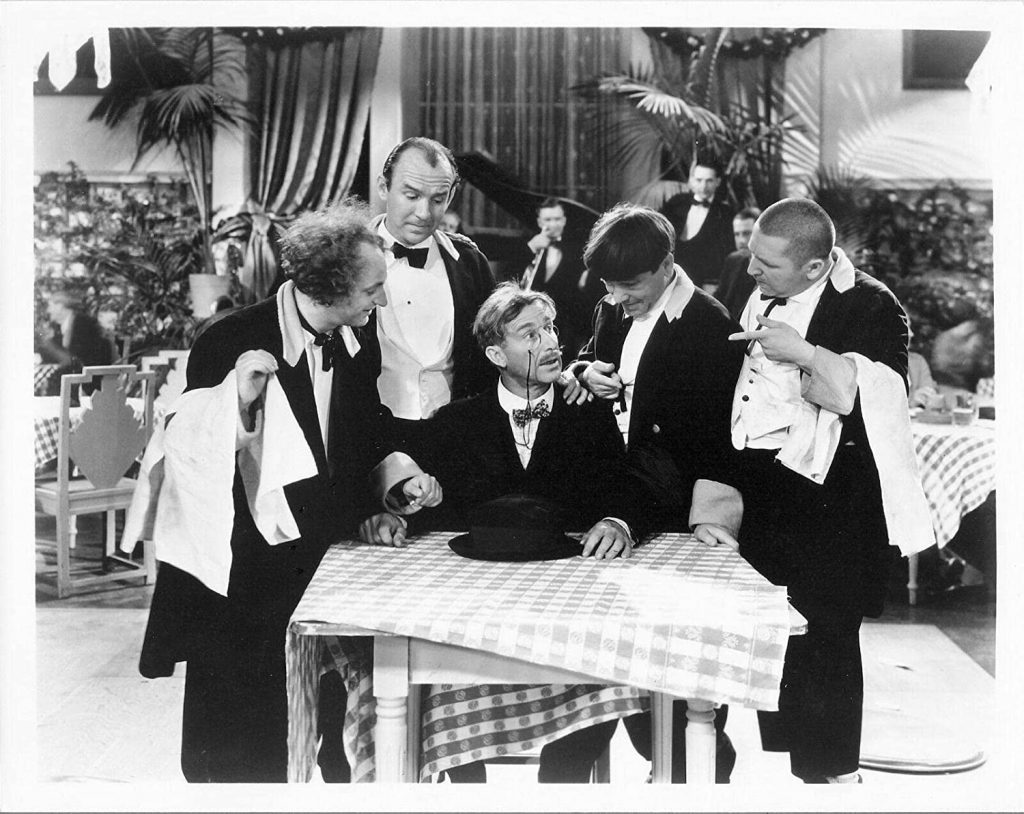 Moe and Shemp Howard joined Healy's act as his stooges. Later, Kenneth Lackey was added as well. And the next year, Kenneth was replace with Larry Fine. The act was soon known as "Ted Healy and his Stooges".
In 1926 Ted Healy appeared in the Hal Roach comedy short "Wise Guys Prefer Brunettes". As a solo, without Betty or the Stooges, but directed by Stan Laurel. Ted continued working both in vaudeville and on Broadway, sometimes with Betty sometimes with his Stooges. His relationship with Betty apparently was becoming strained, however.In 1928, she left the act.
In 1930, he starred in "Soup to Nuts" as Ted Healy and his Stooges. Afterward, Shemp left the act, He was tired of how Healy treated them. To put it in perspective, in the early 1930s, Healy was the highest paid comic in the country. He was making $30,000 per week. Despite that, he paid his Three Stooges, Moe Howard, Larry Fine and Shemp Howard and, after Shemp left, Curly Howard–$100 per week — split three ways.
Film Career
Despite his financial success, on July 13, 1932 – Betty divorced Ted. But, his film career was taking off. In 1933, Healy and his Stooges are signed by MGM. But later that year, the Three Stooges depart for Columbia, leaving Ted alone. But that didn't slow his career down. In that same year, he appeared in "Dancing Lady" with Joan Crawford, Clark Gable. He went on to make:
"Death on the Diamond" (1934)
In 1935,"It's In the Air" , "Mad Love" with Peter Lorre
1936 – "San Francisco" where he teamed with Nat Pendleton
His personal life took a turn for the better when on May 15, 1936 he married UCLA co-ed Betty Hickman. Later that same year, he signed a contract with Warner Brothers. Then in 1937 Ted Healy costarred with Dick Powell in the Busby Berkeley musicals "Varsity Show", "Hollywood Hotel"
Personal Life and Tragedy
Despite his professional success, Ted Healy's personal life was marked by struggles, including issues with alcohol. Moe Howard believed that was the root of why his old friend treated himself and the other Stooges so poorly. On December 17, 1937, Betty gave birth to their son, John Jacob Nash. Healy went out to "celebrate", got involved in a drunken brawl, found by friends, delirious and bleeding on the sidewalk in front of the Trocadero. He died from his injuries. The cause of death was kidney failure resulting from both the beating and years of alcohol abuse. Ted Healy is interred at Calvary Cemetery in Los Angeles, California.