Biography of Christine Cecilia McIntyre (April 16, 1911 – July 8, 1984)
Christine McIntyre was a singer and actress, who is best known for her numerous roles as part of the Three Stooges short films for Columbia Pictures. Christine McIntyre was born in Nogales, Arizona on April 16, 1911, to John and Edna McIntyre, growing up in a family with four siblings. In addition to her physical beauty, she had a lovely singing voice and graduated from the Chicago Musical College in 1933 with a Bachelor of Music degree. Not long afterward, in 1936, she was acting on the stage in Los Angeles, and in 1937 she broke into movies with a small role in Swing Fever leading to a contract with RKO Pictures. This led to her appearing in a number of B-movie westerns for RKO. During this time, she appeared with many comedians in a variety of films, including Shemp Howard, Joe Besser, and Joe DeRita – but not in any Three Stooges short films. That waited until 1944, when shortly after having dyed her hair blond, she signed a ten-year contract with Columbia Pictures Short Films, where she would begin appearing in dozens of short films with the Three Stooges.
Working with the Three Stooges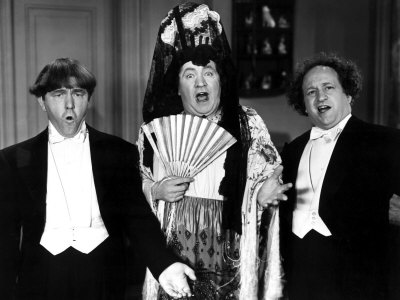 Her first film with the Stooges, Micro-Phonies (1945) made good use of her singing voice, as she sang 'Voice of Spring' – only to have to later provide the voice for the lip-synching Curly as 'Madame Cucaracha'! A very funny short film, that demonstrates not only Christine McIntyre's singing and beauty but her acting and comedy skills as well. She went on to become one of the regulars in the Three Stooges films, playing a wide variety of parts ranging from the girl next door to the saloon girl to the helpless cripple to the gangster's moll – and doing them all very well, to boot.
Happily ever after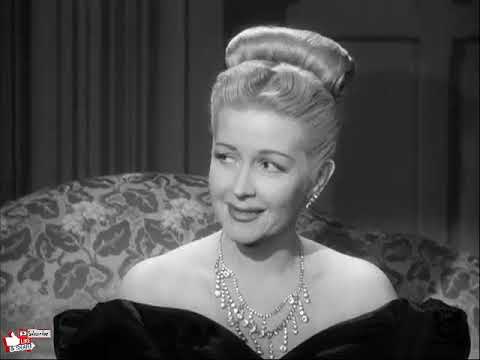 After many years, and many dozens of Three Stooges short films, Christine McIntyre fell in love with and married J. Donald Wilson, a radio producer, writer, and actor. Not long afterward, they both retired from making movies and spent the next 30 years working together in real estate. Her husband died in January 1984, and Christine McIntyre followed him only six months later, dying of cancer on July 8, 1984, in Van Nuys, California.
Movies with Christine McIntyre
Swing Fever (1937)
Sea Racketeers (1937)
The Rangers' Round-Up (1938)
Missing Daughters (1939)
Blondie Takes a Vacation (1939)
1940's
The Gunman from Blodie (1941)
Forbidden Trails (1941)
Man from Headquarters (1942)
Rock River Renegades (1942)
Riders of the West (1942)
Dawn in the Great Divide (1942)
Cinderella Swings It (1943)
Border Buckaroos (1943)
The Stranger from Pecos (1943)
Garden of Eatin' (1943) (with Chester Conklin and Three Stooges regular Vernon Dent)
Idle Roomers (1943) – with the Three Stooges – Moe, Larry, Curly
Who's Hugh? (1943)
To Heir is Human (1944)
Doctor, Feel My Pulse (1944)
His Tale is Told (1944)
Partners of the Trail (1944)
Defective Detectives (1944)
Crazy Like a Fox (1944)
Mopey Dope (1944)
His Hotel Sweet (1944)
Louisiana Hayride (1944)
West of the Rio Grande (1944)
Wedded Bliss (1944)
Kansas City Kitty (1944)
Open Season for Saps (1944) – with Shemp Howard
A Knight and a Blonde (1944)
No Dough Boys (1944) – with the Three Stooges (Moe, Larry, Curly)
Woo, Woo! (1945)
Three Pests in a Mess (1945) – with the Three Stooges (Moe, Larry, Curly)
Off Again, On Again (1945)—with Shemp Howard
Pistol Packin' Nitwits (1945)
Wife Decoy (1945)
The Mayor's Husband (1945)
Where the Pest Begins (1945) – with Shemp Howard
The Crimson Canary (1945)
Micro-Phonies (1945) – with the Three Stooges (Moe, Larry, Curly)
Frontier Feud (1945)
The Blonde Stayed On (1946)
When the Wife's Away (1946)
Get Along Little Zombie (1946)
Jiggers, My Wife (1946) – with Shemp Howard
The Three Troubledoers (1946) – with the Three Stooges (Moe, Larry, Curly)
Behind the Mask (1946)
Gentleman from Texas (1946)
Hot Water (1946)
Mr. Wright Goes Wrong (1946)
Pardon My Terror (1946)
Society Mugs (1946) – with Shemp Howard
Honeymoon Blues (1946)
Slappily Married (1946) – with Joe DeRita

Three Little Pirates

(1946) – with the Three Stooges (Moe, Larry, Curly)
Rolling Down Reno (1947)
Meet Mr. Mischief (1947)
Hot Heir (1947)
Valley of Fear (1947)
Bride and Gloom (1947) – with Shemp Howard
Two Jills and a Jack (1947)

Out West

(1947)
Land of the Lawless
News Hounds (1947)
The Secret Life of Walter Mitty (1947) – with Danny Kaye
Brideless Groom (1947) – with the Three Stooges (Moe, Larry, Shemp)
Hectic Honeymoon (1947)
Wedding Belle (1947)
Should Husbands Marry? (1947)
Wife to Spare (1947)
All Gummed Up (1947) – with the Three Stooges (Moe, Larry, Shemp)
Wedlock Deadlock (1947) – with Joe DeRita
Gun Talk (1947)
Rodeo Romeo (1947)
Shivering Sherlocks (1947) – with the Three Stooges (Moe, Larry, Shemp)
Two Nuts in a Rut (1948)
Squareheads of the Round Table (1948) – with the Three Stooges (Moe, Larry, Shemp)
Tall, Dark and Gruesome (1948)
Jitter Bughouse (1948) – with Joe DeRita
The Sheepish Wolf (1948)
The Hot Scots (1948) – with the Three Stooges (Moe, Larry, Shemp)
A Pinch in Time (1948)
Crime on their Hands (1948) – with the Three Stooges (Moe, Larry, Shemp)
Parlor, Bedroom and Wrath (1948)
He's In Again (1949)
Who Done It? (1949) – with the Three Stooges (Moe, Larry, Shemp)
Trapped by a Blonde (1949)
Flung by a Fling (1949)
Microspook (1949)
Fuelin' Around (1949) – with the Three Stooges (Moe, Larry, Shemp)
Clunked in the Clink (1949)
Waiting in the Lurch (1949) – with Joe Besser
Vagabond Loafers (1949) – with the Three Stooges (Moe, Larry, Shemp)
Super-Wolf (1949)
French Fried Frolic (1949)
Punchy Cowpunchers (1949) -with the Three Stooges (Moe, Larry, Shemp)
1950's
His Baiting Beauty (1950)
Hugs and Mugs (1950) – with the Three Stooges (Moe, Larry, Shemp)
Dopey Dicks (1950) – with the Three Stooges (Moe, Larry, Shemp)
Love at First Bite (1950) – with the Three Stooges (Moe, Larry, Shemp)
A Modern Marriage (1950)
Innocently Guilty (1950)
Three Hams on Rye (1950) – with the Three Stooges (Moe, Larry, Shemp)
A Blunderful Time (1950)

Studio Stoops

(1950) – €"with the Three Stooges (Moe, Larry, Shemp)
From Rogues to Riches (1951)
Gasoline Alley (1951)
Colorado Ambush (1951)
Wine, Women and Bong (1951)
Wanted: Dead or Alive (1951)
She Took a Powder (1951)
Oh Say Can You Sue (1953)
Bubble Trouble (1953) – with the Three Stooges (Moe, Larry, Shemp)
Doggie in the Bedroom (1954)
Pals and Gals (1954) – with the Three Stooges (Moe, Larry, Shemp)
Knutzy Knights (1954) – with the Three Stooges (Moe, Larry, Shemp)
The Fire Chaser (1954) – with Joe Besser
Scotched in Scotland (1954) – with the Three Stooges (Moe, Larry, Shemp)

Of Cash and Hash

(1955)