Biography of Stanley Blystone, famous character actor and recurring nemesis to the Three Stooges.
Stanley Blystone (August 1, 1894 – July 16, 1956)
Stanley Blystone was an American actor known for his prolific career in the film industry during the Golden Age of Hollywood. He was born on August 1, 1894, in Eau Claire, Wisconsin, as William Stanley Blystone. His parents were John and Mary (née Stanley) Blystone. He had two brothers, John G. Blystone, who was a film director, and Jasper Blystone, who was an assistant director.
Stanley Blystone began his acting career in the early 1920s, appearing in silent films such as The Circus Ace (1927) and The Cradle Song (1928). He continued to work steadily throughout the 1930s, appearing in films such as The Man from Death Valley (1931), Modern Times (1936), and Stagecoach (1939). He often portrayed tough and authoritative characters, frequently cast as police officers, sheriffs, or military figures. His rugged looks, deep voice, and commanding presence made him a natural fit for these roles.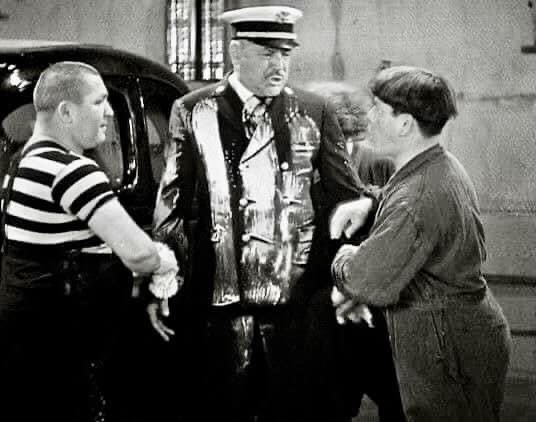 In the early years of his career, Blystone worked for several film studios, including Mack Sennett and Hal Roach Studios. He appeared in numerous short films alongside popular comedians of the time, such as Laurel and Hardy, The Three Stooges, and Charley Chase,
Career highlights
Blystone's career reached its peak in the 1930s and 1940s, with his distinctive presence and reliable performances making him a sought-after character actor. He worked with acclaimed directors like Frank Capra, Howard Hawks, and John Ford, and appeared alongside stars like Clark Gable, Gary Cooper, and James Stewart.
As the film industry transitioned into the sound era, Blystone continued to find success. He appeared in a wide range of genres, including westerns, adventure films, and dramas. His credits include notable films such as "Gone with the Wind" (1939), where he played the role of the Yankee captain, and "Mr. Smith Goes to Washington" (1939), in which he portrayed a Senate reporter.
Outside of his film career, Blystone was an active participant in the film industry's labor movement. He served as president of the Screen Actors Guild (SAG) from 1935 to 1936 and was involved in advocating for fair working conditions and wages for actors.
Personal life
Stanley married actress Alma Tell on December 18, 1932. They remained married until her death at the age of 39 on December 29, 1937. Later, he remarried to Claire Siebrecht, and they remained married until Stanley Blystone's death.
Final years of Stanley Blystone
In total, Blystone appeared in over 500 films throughout his career, including both feature films and short films. In the 1940s, he continued to work in films, but he also began to appear on television. He appeared in several early television series, including The Life and Legend of Wyatt Earp (1955-1956), where he was working when he died.
Stanley Blystone died of a heart attack on July 16, 1956, in Hollywood, California. He was 61 years old. He was buried in the Valhalla Memorial Park Cemetery in Hollywood.
Stanley Blystone's career
Blystone was a prolific character actor who appeared in a wide variety of films and television shows. He was known for his versatility and his ability to play a wide range of roles, from villains to heroes. He was a popular actor with both audiences and critics, and he made a significant contribution to the history of American cinema.
Notable film and television roles of some of Stanley Blystone:
The Circus Ace (1927)
The Cradle Song (1928)
The Man from Death Valley (1931)
Modern Times (1936)
Stagecoach (1939)
The Adventures of Captain Fabian (1940)
The Grapes of Wrath (1940)
The Fighting Seabees (1943)
The Lost Weekend (1945)
The Life and Legend of Wyatt Earp (1955-1956)
Three Stooges performances