Half Shot Shooters (1936) – starring the Three Stooges – originally released April 30, 1936
Half Shot Shooters begins with the Three Stooges (Moe Howard, Larry Fine, Curly Howard) in the Army towards the end of World War I, doing what they do best — sleeping while trying to avoid work and danger.  Their sergeant (Stanley Blystone) doesn't take kindly to this and administers slapstick "discipline" to Moe, Larry, and Curly.  Shortly afterwards, the war ends and the Stooges get their revenge on their sergeant, using a wooden plank with nails in it (really), and the kick of a friendly mule.
Civilian Life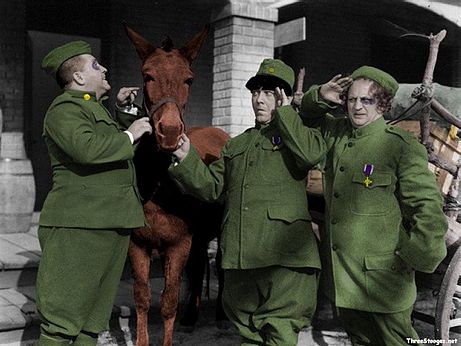 However, things go downhill from there. The Stooges are unable to find employment, and are soon begging at restaurant windows. An irate Vernon Dent (in his first appearance with the Three Stooges) sends them across the street to a place where they'll find "employment" — €"and the Three Stooges unknowingly re-enlist in the Army! And who to starts "testing" them other than their old nemesis, Sergeant McGillicuddy, who starts by administering a "hearing test" — €"the boys put their heads under water, and the sergeant fires a pistol into the water, temporarily deafening them. This leads to some funny verbal humor, as the boys can't hear the questions they're being asked. Soon enough, the Stooges are back in the Army. Proving that there is no such thing as military intelligence, they're assigned to loading the cannon under the supervision of their sergeant.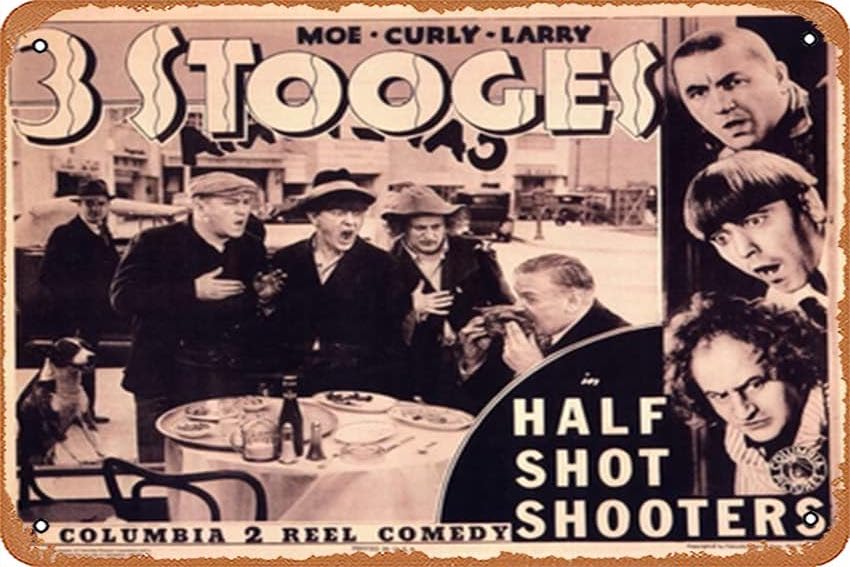 After sending the Stooges back for the ammunition, the practice fire for the day is canceled. But nobody notifies the Three Stooges, who begin loading and firing the cannon at multiple targets, including a house and a bridge. At the end, the sergeant has had enough, and "€˜fires" the Stooges — literally. A very funny short, recommended viewing.
Half Shot Shooters is available on DVD as part of The Three Stooges Collection, Vol. 1: 1934-1936.
Be sure to check out the funny movie quotes fro Half Shot Shooters as well!
Trivia for Half-Shot Shooters – starring the Three Stooges (Moe, Larry, Curly)
Cast of characters
Additional cast