Dizzy Doctors (1937) starring Moe Howard, Larry Fine, Curly Howard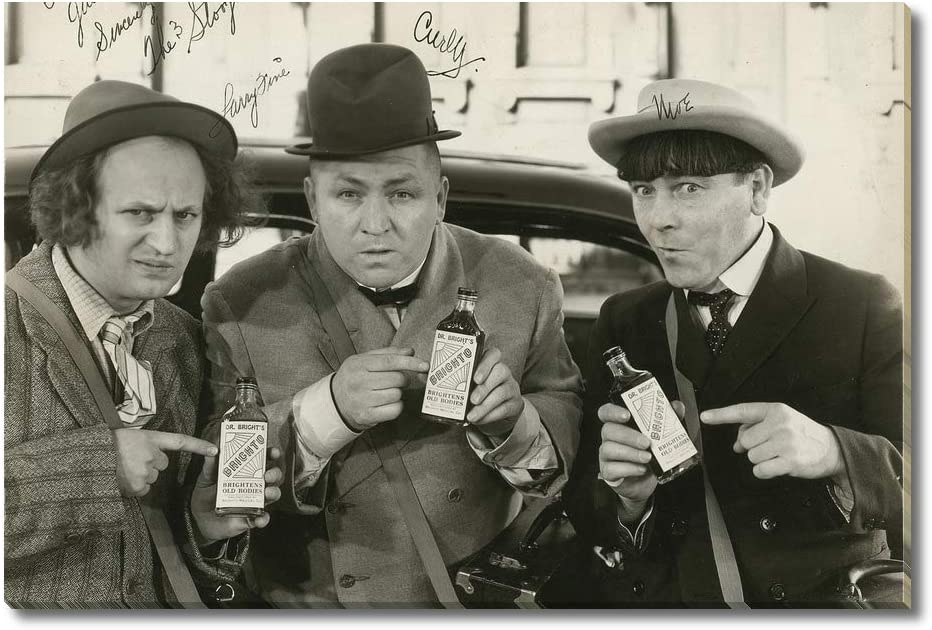 The Three Stooges (Moe Howard, Larry Fine, Curly Howard) are asleep in bed at noon until they're awakened by their wives, who demand that they find jobs. The boys soon stumble on company president Dr. Bright (Frank Mills), who is in desperate need of salesmen for his new product called Brighto — "Brighto: makes old bodies new." How desperate? Desperate enough to hire Moe, Larry and Curly, who think that Brighto is car polish.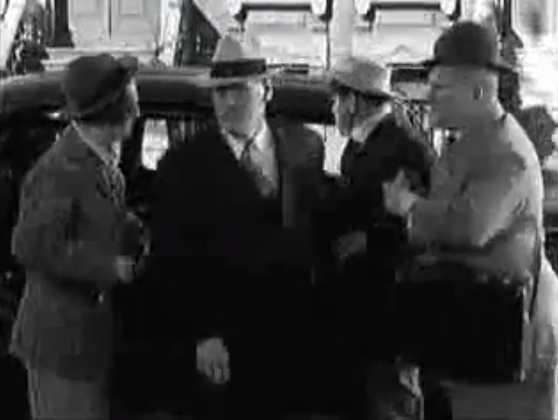 The Stooges take to the streets where they eagerly (and ineptly) demonstrate Brighto for prospective customers, but application of the product damages a policeman's (Bud Jamison) sleeve, destroys another man's shoe, and ultimately removes the paint from a man's (Vernon Dent) new car. The angry owner of the car joins with the policeman in hot pursuit of the Stooges, only to be unintentionally hit by pies during the chase, promising to get even if he ever sees them again!
Medicine, not car polish!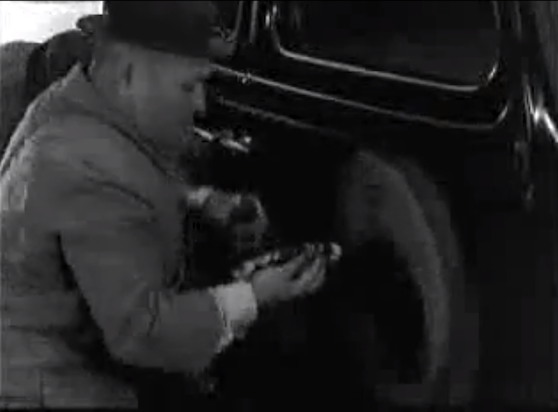 On the run, the Stooges return to Dr. Bright's office to complain that the polish is terrible. Dr. Bright admonishes the Stooges, telling them it is medicine, not polish. However, he foolishly agrees to give them a second chance as salesmen. Knocking over the doctor's displays for a second time, the boys work their way into Los Arms Hospital and try to sell Brighto to the patients.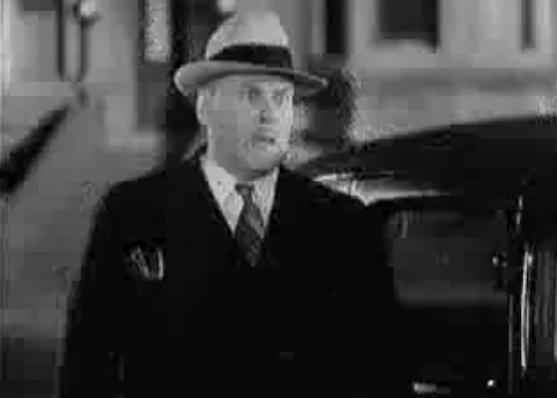 Eventually, they enter the office of the superintendent — Dr. Harry Arms — to try to make a sale, only to find out that it's Vernon Dent whose car they damaged before they pied him — and the chase is on! The Stooges try to escape into an elevator, but Vernon Dent is inside, so the Stooges close the door on him and send him to the top floor by turning the elevator arrow. The boys then make a hasty exit by riding a hospital gurney into the street, where they use a blanket as a sail. After causing an auto accident, they run home, jump through a window into their bed, and go back to sleep.
Dizzy Doctors is available as part of the Three Stooges Collection volume 2
Funny movie quotes from Dizzy Doctors – the Three Stooges
Dr. Bright: Have you ever sold anything?
Larry: Have we ever SOLD anything!
Moe: Have we ever SOLD anything!
Curly: Have we?
---
Curly: Brighto! Brighto! It makes old bodies new! We'll sell a million bottles, Woo, woo, woo, woo, woo, woo, woo!
---
Curly: Hey, what's this stuff for anyway?
Larry: Why it's a cleaner, you chump.
Curly: I know. It's auto polish.
Moe: You boys really want to know what it's for?
Curly, Larry: Yeah!
Moe: It's for sale. Now get busy selling it.
---
Moe: [while "polishing" a man's shoe with Brighto] Remember sir, Brighto! You'll never forget it as long as you live!
[removes the rag to realize that the Brighto has eaten right through the man's shoe] And neither will I!
---
Policeman (Bud Jamison): [Larry is standing next to a fence with one leg hidden to look crippled] Oh I'm sorry buddy. I didn't notice the leg was gone.
Larry: Huh? Oh yeah, gone but not forgotten.
Policeman (Bud Jamison): War, eh?
Larry: No, banana peel.
---
Larry: If you have a knickknack with a nick in it, we'll knock the nick outta the knickknack with Brighto!
---
Brighto is medicine?
Curly: Medicine! Oh! [drinks from the bottle] Ahh, I feel better already!
Moe: What was wrong with you?
Curly: Nuthin'!
---
Curly: Hello Ma, hello Pa. It wasn't much of a fight. I stood like that … but not for long!
---
Moe: Just as I thought! Give him a ticket!
Larry: One way or round trip?
Moe: Make it a one-way round trip.
---
Curly: A guy wants to know what to do for inflammation.
Moe: Why ask us? Tell him to dial Inflammation!
---
Trivia for Dizzy Doctors
Solomon Horowitz, the real-life father of Moe, Shemp, and Curly, appears as a street onlooker in the scene near the end where the Stooges crash their gurney into the car. He's the stocky man with moustache and glasses, wearing a fedora (he's also in the courtroom audience in "Disorder in the Court"). Solomon and his wife Jenny were in town visiting their famous sons when they were filming, and were given these cameo appearances.
Ella McKenzie, the actress seen briefly as the desk nurse at the microphone, was the wife of comic actor Billy Gilbert ('What you try to make for me–a fruit salad!?' in 'Pardon My Scotch") in 1937.
The footage of the Stooges sailing on a gurney through the city streets would be reused in From Nurse to Worse.
The Stooges try to sell their medicine in the Los Arms Hospital; this is the same hospital seen in Men in Black.
When Moe hits each of the skulls in turn each sounds a different note. The tones are a parody of the G-E-C pattern used for the NBC Chimes.
A colorized version of this film was released in 2006. It was part of the DVD collection entitled "Stooges on the Run".
Cast of characters
Secondary characters
Updated April 30, 2023