Disorder in the Court, if not the funniest short film that the Three Stooges ever made, is certainly in the top 10. The basic plot is that the Three Stooges (Moe Howard, Larry Fine and Curly Howard) are testifying for the defense. Their friend, nightclub owner Gail Tempest (Suzanne Kaaren) is on trial for murder. The Stooges proceed to destroy the courtroom proceedings, unveiling the true murderer in the process.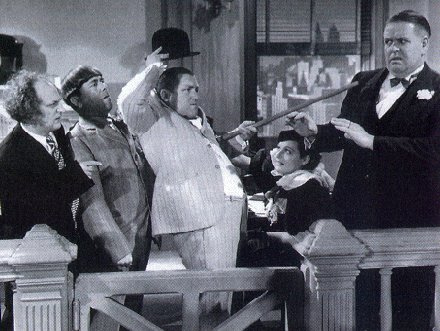 That's the plot, but it's almost secondary to the non-stop slapstick humor in this short film. From the longer bits such as:
Curly being sworn in.
"taking the stand".
having Moe demonstrate what he saw at the nightclub by acting it out on Curly and nearly killing him in the process.
Larry trying to capture the escaped bird.
the water hose routine.
The scene with the Three Stooges and a "unloaded" pistol as they attempt to shoot a toupee believing it to be a tarantula, etc.
It's non-stop humor from start to finish, and is highly recommended. You may want to read some of the funny movie quotes from the Three Stooges.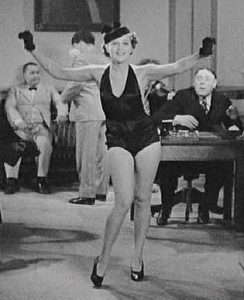 Disorder in the Court is one of a handful of Three Stooges short films that fell into the public domain by accident in the 1960's, and is available at many stores (Wal-Mart, Shopko, dollar stores, etc.) for a dollar – or you can The Three Stooges in Color wonderfully restored,. It's a superior version over the public domain copy. It's also available on The Three Stooges Collection volume 1.
Trivia for Disorder in the Court (1936) starring the Three Stooges – Moe, Larry, Curly
This is one of several Three Stooge short films that fell into the public domain in the 1960s.
Curly Howard's "raise your right hand" scene was taken almost verbatim from Buster Keaton's Sidewalks of New York (1931). Which was directed by Stooge veteran Jules White.
Sol Horowitz and Jenny Horwitz, the parents of Moe and Curly Howard, make uncredited appearances in this film. They're as front-row members of the court audience.
Cast of characters
Additional Cast
Nick Baskovitch … Man in Hallway
Alice Belcher … Juror
Hank Bell … Juror – Back Row
Dan Brady … Juror
Bobby Burns (Three Little Pigskins) … Gallery Spectator
Louise Carver (Dizzy Doctors) … Flirting Juror
Billy Franey … Juror
Sol Horwitz (Grips, Grunts and Groans) … Middle-Aged Man in Front Row of Court Audience
Tiny Jones … Juror
Eddie Laughton (Beer Barrel Polecats

) … Man Sitting by Letterpress

Ed Mull … Man in Hallway
William J. O'Brien … Juror
Arthur Thalasso … Man in Hallway
[Updated April 12, 2023]