Who Done It? (1949) starring the Three Stooges – Moe Howard, Larry Fine, Shemp Howard, with Christine McIntyre, Emil Sitka, Dudley Dickerson
In Who Done It? the Stooges (Moe, Larry, Shemp) are private detectives looking for a missing millionaire. They wander around the millionaire's (Emil Sitka) spooky mansion confronting various crooks and a dangerous dame (Christine McIntyre). Shemp uses his "trusty shovel" and it's Stooges to the rescue!
Comedy highlights
The three detectives starting the short film by being tied up in their own office – rescued by janitor Dudley Dickerson
Christine trying to poison Shemp

switching the poison glasses
Shemp's reaction to the poison

Chase scene with "Nikko"
Fight in the dark
Shemp's little shovel
Funny movie quotes
Moe: [to Larry] Answer the phone.
Larry: I'll answer it when I'm ready!
Moe: Oh yeah? [slaps & punches Larry]
Larry: I'm ready!
---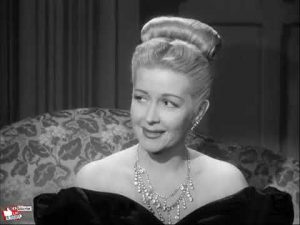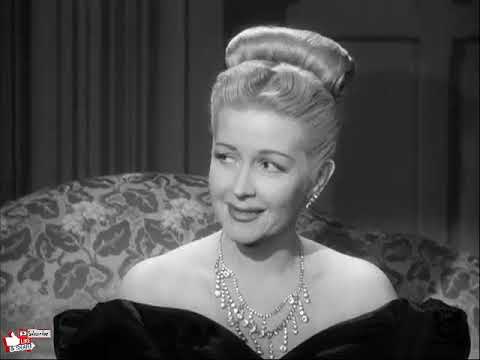 Moe: We're detectives. Mr. Goodrich sent for us.
Goodrich's Niece (Christine McIntyre): Oh, I'm his niece.
Shemp: The niece is nice!
Moe: Hold on, we're here on business.
Shemp: I mean business.
---
Shemp: [after Moe has kicked him] Don't you raise a hand to me!
---
Moe: There must be a secret panel! You take that wall.
Shemp: To where?
---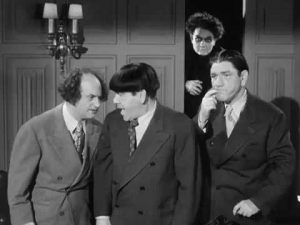 Moe: We're private detectives ain't we?
Larry, Shemp: Yeah!
Moe: In the movies, does a private eye ever give up?
Larry, Shemp: No!
Moe: But you softies want to quit like cowards just because you might get killed.
Larry, Shemp: Yeah!
Moe: That's a great idea, let's go!
---
Old Man Goodrich (Emil Sitka): I'm a fan of classical music. They tied me up and made me listen to singing commercials! It was horrible, horrible …
---
Editorial review of Who Done It? courtesy of Amazon.com
There is little originality in the plot of "Who Done It?" (1949, number 114), in which a prominent citizen (played by Emil Stika) is attacked after calling in detectives–who are first seen tied up after a robbery of their own office. They arrive at the usual spooky house and are threatened by sexy Christine McIntyre and three other creeps, and there is little they can do for most of the film except run from room to room, doing more damage to each other than to the crooks. There is the old routine of switching the poisoned drinks around, but Shemp's reaction to drinking the poison–done in quick motion and presumably by a stuntman–is hilarious. There is also a good "turning out the lights" fight that does show some imagination. –Frank Behrens
Cast of characters
Trivia
During filming Moe Howard sprained his ankle. Rather than delay production Moe continued and limps noticeably.
A remake of Pardon my Terror. The original version was actually assigned to the Stooges themselves, but the short was recast and rewritten when Curly Howard's stroke ended his career.
Emil Sitka was a late replacement for Harry Tyler.
No relationship to the Abbott & Costello comedy, Who Done It?