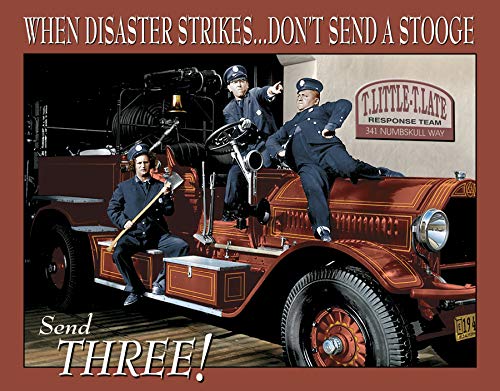 Flat Foot Stooges is an early Three Stooges short film that has Moe, Larry and Curly working as firefighters. Their main job is their preoccupation with getting their horse-drawn fire engine cleaned and ready for a contest. They not only clean the fire engine, they groom the horses – after taking them out for a steam bath. While they are out, an unscrupulous salesman is trying to get the fire chief, played by classic silent film actor Chester Conklin, to look into purchasing a new fire engine that doesn't need horses. Fire Chief Chester Conklin isn't interested. So the salesperson decides to get a little revenge by planting a bomb in the fire engine. The chief's daughter catches him in the act. While he tries to talk his way out of the situation, a duck waylays his plans.
Why a duck?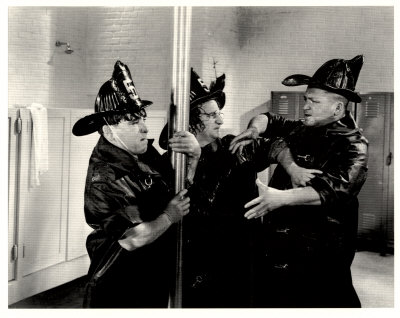 A duck? Yes, a duck … A duck that's eaten some of the gunpowder he's spilled from his bomb. And, it lays an explosive egg! That sets the upstairs of the fire house on fire. It's a little madcap as the fire fighters try to get to the fire, despite the "help" of Moe's invention, a crazy device to automatically harness the horses – that doesn't work. With a little creativity from Chester Conklin, they make it back to the firehouse in time . They rescue the beautiful daughter (in a classic clown gag) and the villain gets his just desserts.
A very funny short film and I rate it 4 clowns out of 5. Flat Foot Stooges is available on the Three Stooges DVD collection, The Three Stooges Collection, Vol. 2: 1937-1939.
A final note – with silent film clown Chester Conklin as the fire chief, and the short film directed by another classic silent film clown Charley Chase, it almost feels like a reunion of classic film clowns.
Funny movie quotes from Flat Foot Stooges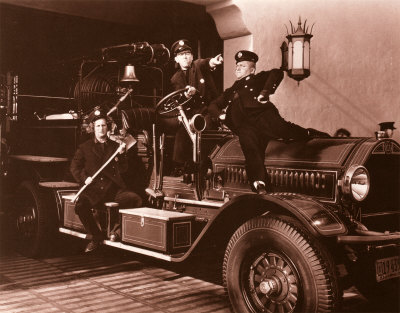 Curly (Curly Howard): I ain't gonna take no shower!
Moe (Moe Howard): Why not?
Curly (Curly Howard): I don't got my bathing cap!
---
Moe (Moe Howard): Do you smell anything?
Curly (Curly Howard): No, especially smoke!
---
Curly (Curly Howard): That's the first mouse I ever smelled that smelled like smoke.
Moe (Moe Howard): What did you expect a firehouse mouse to smell like, a petunia?
---
Moe (Moe Howard): This is my brainchild!
Curly (Curly Howard): Ah, you're not even married!
---
Cast of characters
Additional Cast
Heinie Conklin (Spook Louder) … Traffic Policeman
Kernan Cripps … Fireman at Alarm Console
Bruce Mitchell … Fireman reading newspaper
Harry Myers (City Lights) … Man with Binoculars
Al Thompson (Fiddlers Three) … Volunteer