Biography of Lorna Gray, Three Stooges regular (July 26, 1917 – 2017)
Actress Lorna Gray is best remembered today for her role as Mata Herring in the Three Stooges short film, You Nazty Spy! but her film career is much more than that.
Born as Virginia Pound on July 26, 1917, in Grand Rapids, Michigan, U.S.A. she showed an interest in performing, singing with a group in Cleveland called Ben Yost's Varsity Coeds, who sang in movie theaters before the film would begin. She had a film test for Universal Pictures, and actually had a short contract with Paramount Pictures, but it was after she was spotted in a fashion show by a talent scout for Columbia Pictures that she was signed for feature films — and in between, she appeared in several short films with the Three Stooges.
Film career of Lorna Gray
Under the screen name of Lorna Gray, she appeared in several of the Three Stooges short films – as the spoiled wife Sherry in Three Sappy People, as the spy Mata Herring in You Nazty Spy!, and as one of the female co-stars in Oily to Bed, Oily to Rise and Rockin' Thru the Rockies. These are some of the best Three Stooges short films, but in her time at Columbia she appeared with John Wayne, Boris Karloff and Buster Keaton as well.
In 1945, Lorna Gray left Columbia Pictures and moved to Republic Pictures, where she changed her screen name to Adrian Booth, which is what she goes by today. At Republic, she continued her screen career, appearing in many films; in 1949, she married David Brian, and retired from the screen two years later.
Later life of Lorna Gray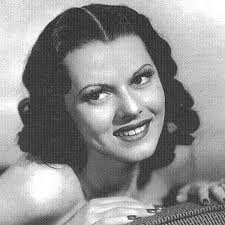 Lorna Gray/Adrian Booth remained happily married to David Brian until his death in 1993. In 1998, she received the Golden Boot award in honor of her work in Western films. Despite her advanced age, she still makes public appearances and is scheduled to be a guest at the annual Three Stooges convention held in Fort Washington, Pennsylvania on April 30, 2011. She passed away on April 30, 2017, in Sherman Oaks, California, USA
Filmography of Lorna Gray
1930's
Adventure in Sahara
Red River Range (with John Wayne)
Smashing the Spy Ring (with Ralph Bellamy and Fay Wray)
Flying G-Men
Pest from the West (with Buster Keaton)
The Man They Could Not Hang (with Boris Karloff)
Oily to Bed, Oily to Rise (with the Three Stooges)
1940's
Convicted Women
Bullets for Rustlers
You Nazty Spy! (with the Three Stooges)
Rockin' Thru the Rockies (with the Three Stooges)
Deadwood Dick
Up in the Air
Drums of the Desert
Father Steps Out
Tuxedo Junction
Perils of Nyoka (with Clayton Moore)
Ridin' Down the Canyon (with Roy Rogers and Gabby Hayes)
So Proudly We Hail (with Claudette Colbert, Paulette Goddard, Veronica Lake, George Reeves)
O, My Darling Clementine
Captain America (with Dick Purcell and Lionel Atwill)
The Girl Who Dared
Adventures of Kitty O'Day
Fashion Model
Federal Operator 99
Tell It to a Star (as Adrian Booth)
Home on the Range (as Adrian Booth)
Valley of the Zombies (as Adrian Booth)
The Man from Rainbow Valley (as Adrian Booth)
Daughter of Dan Q (as Adrian Booth)
Out California Way (as Adrian Booth, with Monty Hale and Roy Rogers)
Last Frontier Uprising (as Adrian Booth, with Monty Hale)
Spoilers of the North (as Adrian Booth)
Along the Oregon Trail (as Adrian Booth, with Monty Hale and Clayton Moore)
Exposed (as Adrian Booth)
Under Colorado Skies (as Adrian Booth, with Monty Hale)
Lightnin' in the Forest (as Adrian Booth)
California Firebrand (as Adrian Booth, with Monty Hale)
The Gallant Legion (as Adrian Booth)
The Plunderers (as Adrian Booth)
The Last Bandit (as Adrian Booth)
Hideout (as Adrian Booth, with Lloyd Bridges)
Brimstone (as Adrian Booth, with Walter Brennan)
1950's
Rock Island Trail (as Adrian Booth, with Forrest Tucker)
The Savage Horde (as Adrian Booth)
Oh! Susanna (as Adrian Booth)
Yellow Fin (as Adrian Booth)
The Sea Hornet (as Adrian Booth)