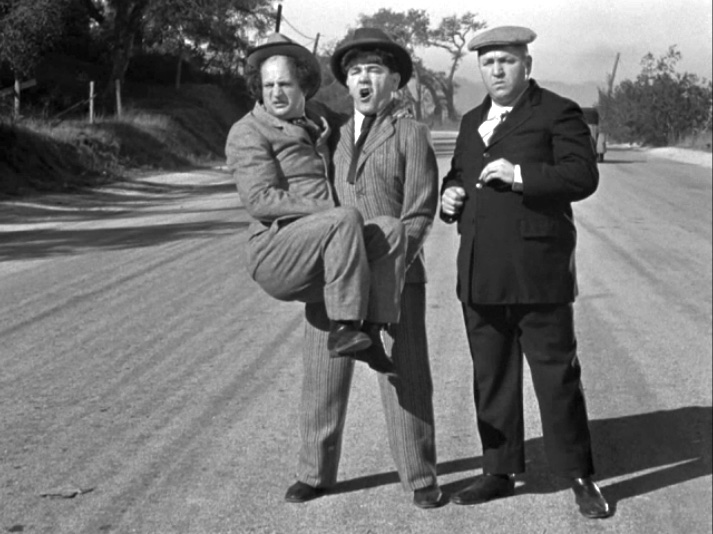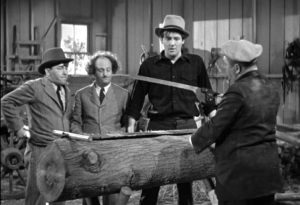 Oily to Bed, Oily to Rise is a Three Stooges short film that begins with three con men entering their car, having tricked a widow into selling her land. She doesn't realize that there's oil on the property. As the con men leave, they nearly run over Moe, Larry and Curly, tramps walking down the middle of the road. The Stooges soon see a farmhouse and go there, looking for a meal. Mr. Johnson, the farmer, offers them food in exchange for sawing lumber.
And in a very funny scene, the Three Stooges swiftly destroy the saw on Curly's head, leading to Moe's "brilliant" idea to cut the saw with another saw, so they can move the handle up and 'fix' the broken saw — leading to another broken saw.  The farmer soon sees what they've done to his saws, and gives them one last chance.  All they have to do is load wood in a wagon.  Curly is given the simple task of closing the wagon's trap door, a very funny slapstick scene as it's a battle of wits between Curly and the trap door.  With the trap door winning!
On the road again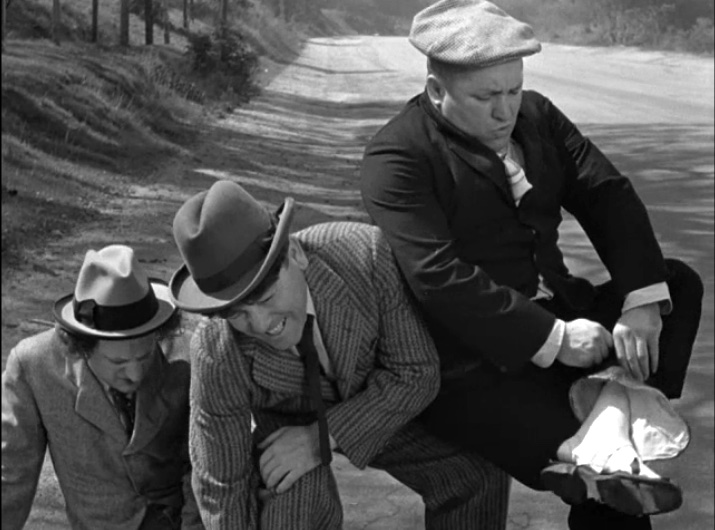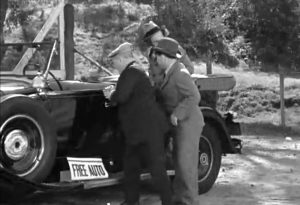 Soon, the boys are walking down the road with aching feet and Curly wishes for a car.  "Always wishing, what's it get ya? Nothing!" says Moe — just as they see the car used the by three con men.  A moment before, the con men got out of the car to find another oil-rich property to buy, and one of them cleaned off a muddy show with a sign.  And the part of the sign that the Stooges can now see reads "Free Car".  So the Three Stooges get into their new car and drive away!
The widow Jenkins and her daughters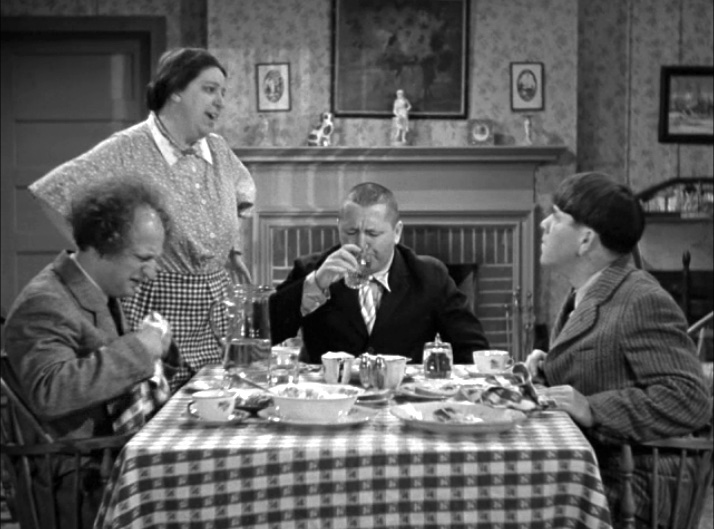 Curly's odd wishing power keeps manifesting throughout the movie, as he's granted everything he wishes for — cigars, and courtesy of the Widow Jenkins, a meal of chicken and dumplings with hot apple pie.  To thank the widow for her kindness, the Stooges go to fix her water pump, since her water tastes like oil ever since it broke.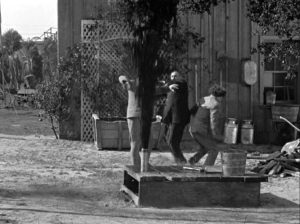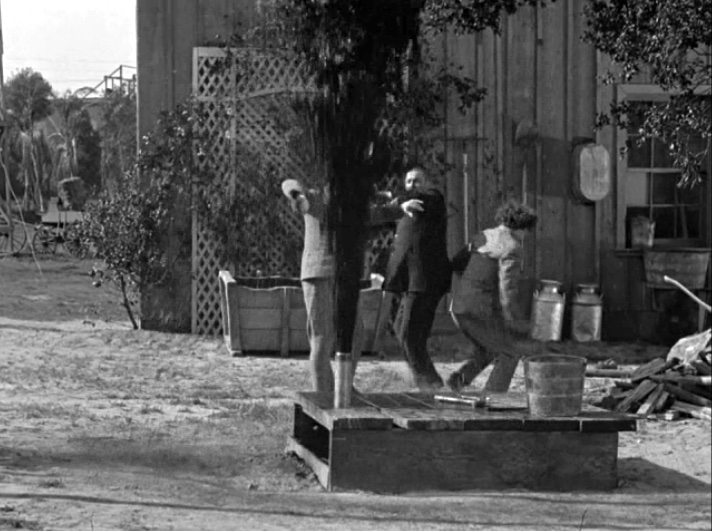 Normally, sending the Three Stooges to fix anything leads to disaster.  But this time it's a happy disaster as it leads to the discovery that there's oil on the Jenkins property!  Unfortunately, the Widow Jenkins tells the Stooges (and her three lovely daughters, April, May, and June who've arrived from a bathing beauty contest) that she sold the farm that very morning — to those con men from the beginning of the movie.
The chase is on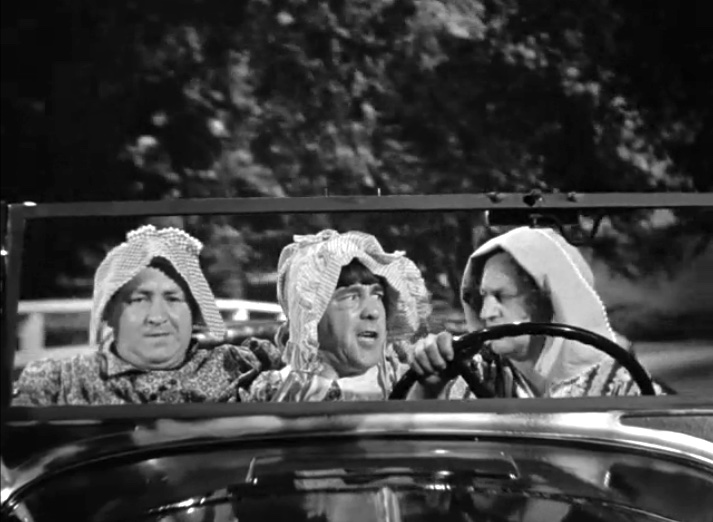 The boys change into dry clothes (dresses from the Widow Jenkins) and drive to Fairport, where the swindlers are going to register the deed. and they run into them on the road.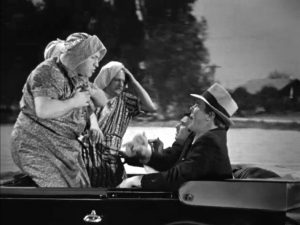 A short, funny fight ensues, ending with the deed in the Stooges hands, the con men laying in the road, and the driverless car veering wildly down the road.  All ends well, with them crashing back onto the Widow Jenkins' property, with Curly wishing for a preacher for them all to get married …  And the girls' preacher uncle appears right on cue.  The film ends with a funny misplaced kiss.
Oily to Bed, Oily to Rise is a long-time favorite Three Stooges short film, showing the Stooges at their peak of humor. I enjoyed it very much, and I hope you do as well. I rate it 4 clowns out of 5.
Oily to Bed, Oily to Rise is available on DVD, as part of The Three Stooges collection volume 2 (1937-1939).
Funny movie quotes from Oily to Bed, Oily to Rise
Curly (Curly Howard): [thinking of eggs] Oh boy, hen fruit!
---
Moe (Moe Howard): Speak to me, kid! Tell me your name so's I can tell your mother.
Curly (Curly Howard): My mother knows my name!
---
Moe (Moe Howard): You're gonna fix that saw, you half-brother to a weasel!
Curly (Curly Howard): Listen, you! On behalf of the weasels, I resent that!
---
Mr. Johnson, Farmer: Hey! What d'ya think ye're doin'?
Curly (Curly Howard): I'm sawin' a saw in half with a saw, see?
---
Moe (Moe Howard): Never look a gift horse in the puss.
---
Curly (Curly Howard): Hey! Don't look know, but I think we're about to be killed! Nyuk nyuk nyuk!
---
Moe (Moe Howard): [smoking a cigar] Quite a bouquet!
Curly (Curly Howard): Mmm! Smells like a chrysanthemum-mum-mum-mum-mum!
---
Curly (Curly Howard): Hey, look, a roosterbar!
Moe (Moe Howard): You mean a crowbar.
Curly (Curly Howard): Don't a rooster crow?
---
Larry (Larry Fine): An inkwell!
Moe (Moe Howard): That's not ink! That's earl!
Curly (Curly Howard): What d'ya mean, earl?
Moe (Moe Howard): You know! Coal earl!
Curly (Curly Howard): You mean oil! It's a geezer! An oil geezer!
---
Curly (Curly Howard): I'm gonna get a trap.
Moe (Moe Howard): Wait a minute. How can there be a bear down there? [in the well]
Curly (Curly Howard): It's bear-ly possible.
---
Larry (Larry Fine): We can't stop 'em in these oily clothes!
Curly (Curly Howard): Why not, the oily bird gets the worm!
---
Cast of characters
Updated May 24, 2022