Rumpus in the Harem (1956) starring Moe Howard, Larry Fine, Shemp Howard, Vernon Dent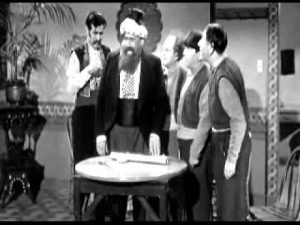 Rumpus in the Harem is charitably described as a remake of Malice in the Palace. It's one of several Three Stooges short films that were made after the death of Shemp Howard. The studio had an actor, Joe Palma, filling in for Shemp, wearing a wig, being filmed from behind, etc.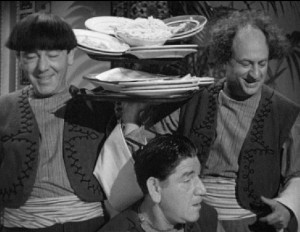 The funniest parts of the movie are the bits re-used from the earlier Malice in the Palace. Such as the hilarious routine with Larry preparing lunch in the kitchen of their diner while the customers mistakenly think that the dog and cat that are in the kitchen with Larry are … ingredients. Most of the new parts aren't very funny, although this time around the Stooges have a better reason for searching for the treasure — they need to pay their girlfriends' back taxes! Another highlight is when the Stooges accidentally walk into a harem filled with harem girls, the girls immediately start beating up the Three Stooges while shouting "How dare you frighten us defenseless women?"
Not a bad Three Stooges short film, but far inferior to the original short film. Rumpus in the Harem is available on DVD as part of The Three Stooges Collection volume 8.
Funny movie quotes fromRumpus in the Harem, starring the Three Stooges – Moe, Larry, Shemp
Moe: [reading a note from Shemp] Let me know if you didn't read this note, and I'll write you another.
---
Larry: I've got it! I've got it!
Moe: What?
Larry: A terrific headache