Sappy Bullfighters (1959) starring the Three Stooges (Moe Howard, Larry Fine, Joe Besser), Greta Thyssen, George J. Lewis
Sappy Bullfighters is the final Three Stooges short film – a reworking of What's the Matador? The short film begins with the Three Stooges (Moe Howard, Larry Fine, Joe Besser) having been fired. Fired from their engagement in Mexico for refusing to do 10 additional shows for free. Stranded without the money needed to get back home, a fellow performer — the lovely and kind-hearted Greta (Greta Thyssen) gets them an engagement, performing their comedy act at an actual bullfight at a stadium.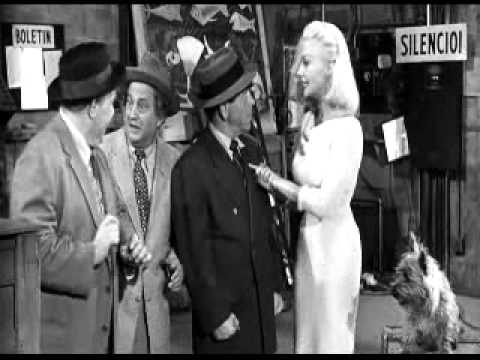 However, when Greta leaves, she takes the Stooges' suitcase — with the props for their comedy matador act — by mistake. The Stooges follow her to her dressing room and join her in a snack. Where Joe unwittingly drinks hot sauce and "douses" it with water from a flower vase. Greta's husband (George J. Lewis) arrives, and Joe mistakenly thinks that Greta is calling him "sweetheart," setting up the conflict.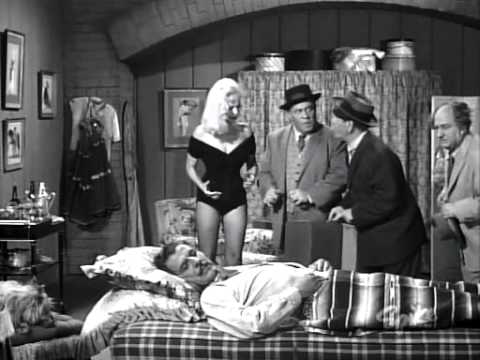 The jealous husband throws the Stooges out — with the wrong suitcase again. They sneak back in, hide from the husband, and are soon discovered and make their escape. With the poor husband running his head into the door.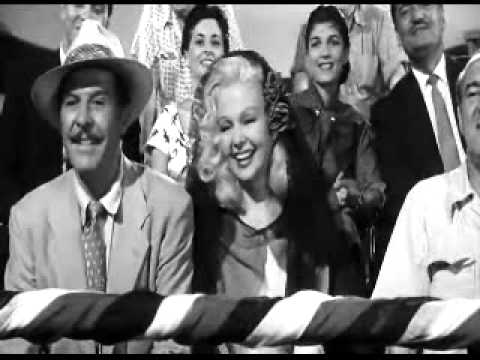 The next day at the stadium, Moe and Larry are inside a bull costume, while Joe plays the part of a matador for comedy. The act is a big hit, but the jealous husband bribes someone at the stadium to let a real bull loose. With Joe thinking (at first) that it's still Moe and Larry. After some slapstick, Joe actually wins, and is carried out of the stadium as a hero — hitting his head on a pipe on the way out.
Trivia for Sappy Bullfighters
Sappy Bull Fighters is a reworking of 1942's What's the Matador?. Minimal recycled footage from the original was used, including far shots (and "woo woo woo" 's) of Curly Howard riding the bull.
Though filmed in autumn 1957, this film was not released until nearly two years later. By that time, the Stooges were experiencing a rebirth in popularity, due to the release of their shorts on television. In essence, the June 1959 release of Sappy Bull Fighters actually competed with the enormously successful television revival.
The film also marks Joe Besser's final appearance as a Stooge. He left the act to tend to his ailing wife following its production. He would be succeeded by Joe DeRita (as "Curly Joe") in the trio's subsequent projects.
At 15′ 12″ this is the shortest film the team made at Columbia Pictures.