Roast-Beef and Movies is an odd little comedy short – Curly Howard without the Three Stooges, but in a different comedy trio. They're trying to sell their movie to a distributor — but …
Roast-Beef and Movies (1934) starring George Givot, Curly Howard
As I say, Roast-Beef and Movies is an odd little comedy short. It's primarily historical interest, since it features Curly Howard without the Three Stooges, but in a different comedy trio. The trio are trying to sell their movie to a distributor. Actually a collection of four very short clips:
Curly in a park with a girl, about to be hit by a policeman.
"Chinese" lady dancers. A Busby Berkeley-style dance routine, taken from Lord Byron of Broadway.
"Prepare to Die" – a comedy short parodying Mae West, narrated by the fake Greek accent of George Givot
A dance routine, allegedly about a wife dying of thirst taken from Children of Pleasure.
Finally, the movie studio decides to buy it! For $100,000 — a huge sum in 1934. But, then the attendant from the insane asylum comes in, to take the "executives" back! Ending the film. Similar to the ending of the Three Stooges short, Pardon My Clutch, years later.
Conclusion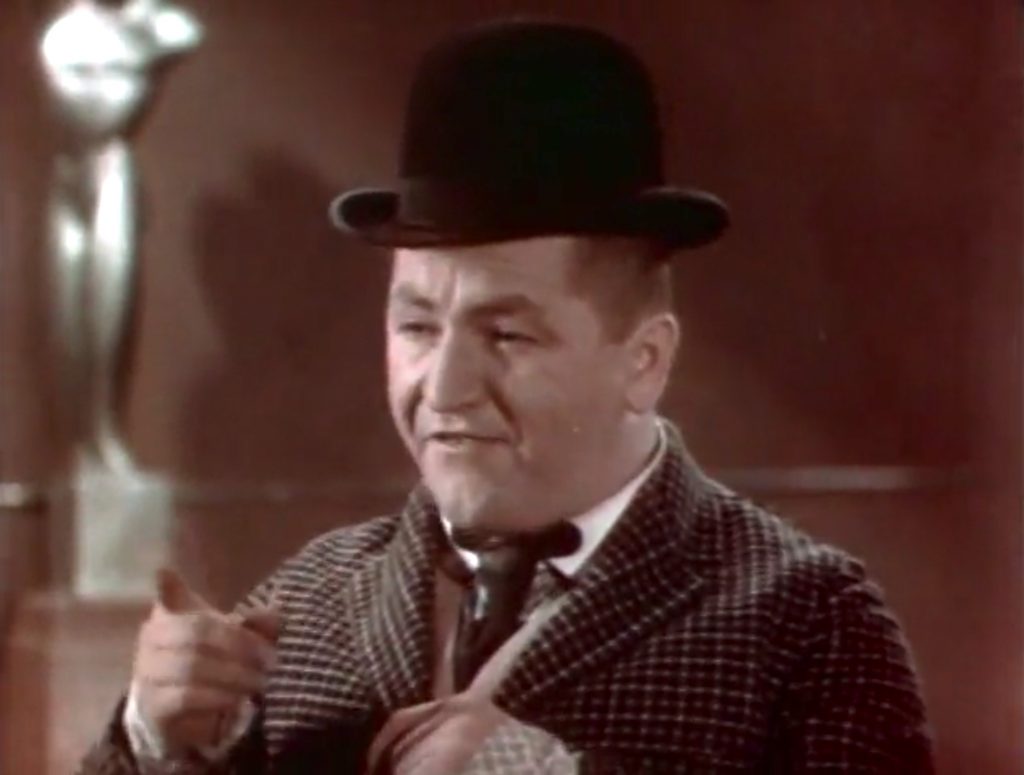 Roast-Beef and Movies is an odd little film. It's not dreadfully funny, although Curly has some funny moments:
Eating the goldfish because he's starving
Having the film from the last reel in his pants — because he ate the can!
And … that's about it. It's nice to see Curly in color, though. The movie's just not very funny, nor entertaining.
Cast of characters in Roast-Beef and Movies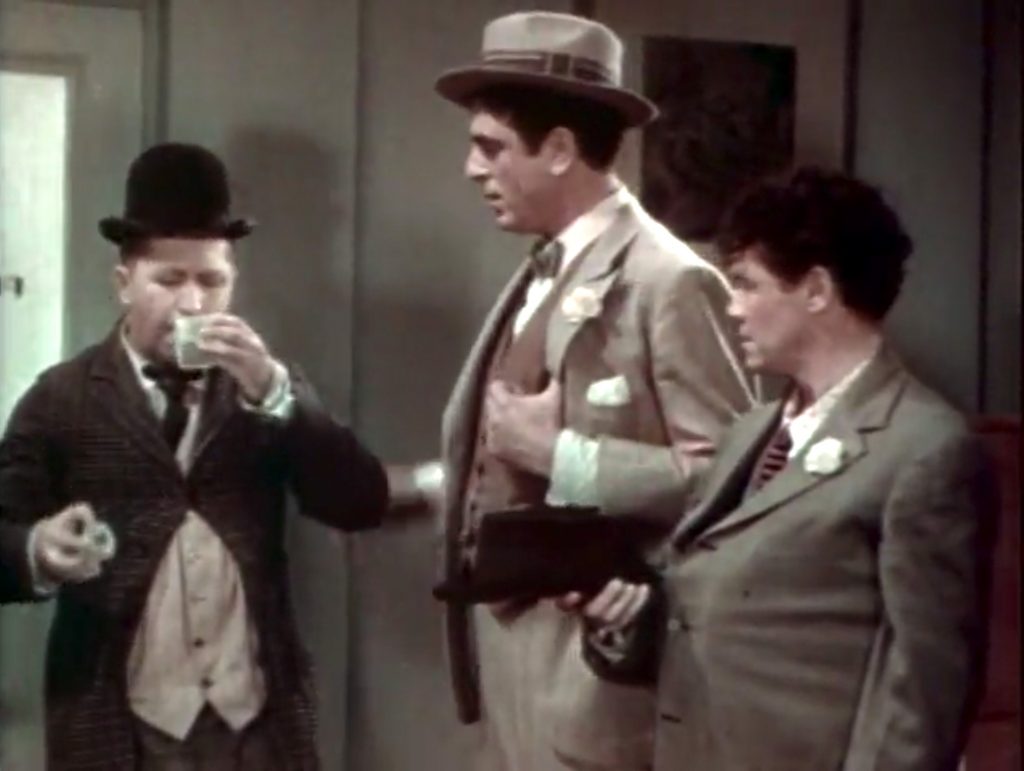 Additional cast
Ed Brady … Gunman in Fictitious Film Scene (uncredited)
James Burroughs … Vocalist (uncredited)
Dorothy Granger (Termites of 1938) … Easter Wester (uncredited)
Warren Hymer … Man at Gunpoint in Fictitious Film Scene (uncredited)
Si Jenks (The Three Troubledoers) … Producer (uncredited)
Frank O'Connor (Pest Man Wins) … Studio President (uncredited)
Lee Phelps … Attendant from Asylum (uncredited)
Trivia
This short includes two recycled musical numbers, "Blue Daughter of Heaven" ("Chinese Ballet") taken from Lord Byron of Broadway (1930) and "Dust" originally from Children of Pleasure (1930).
When the studio head points to his stars' photos on the wall, those pictured include Wallace Beery, Jean Harlow, Marion Davies, Marie Dressler, Clark Gable, Norma Shearer, Robert Montgomery, Greta Garbo, Helen Hayes, Ramon Navarro, and Joan Crawford – all MGM stars of the era.
Filmed in the early two-strip Technicolor process that utilized only reds and greens.