DVD review of The Three Stooges – Three Smart Saps starring Moe, Larry, Curly and Shemp
A collection of five (yes, not six, but only five) Three Stooges short films on DVD. The films are:
As owners of a storage company, the Stooges give customers an inferiority complex about their valuables. But when Shemp finds a lamp and conjures up a genie, it's not the irate customers they're worried about, it's the Arabian thieves who have come for the lamp.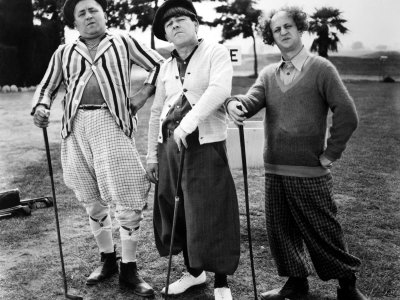 When the Panther Brewing Co. excludes its three new delivery men from its annual golf tournament, the Stooges get really teed off and come up with a plan to gain entry, with an eye on winning the $100 first prize. Too bad they're as bad at golf as they are at delivering beer.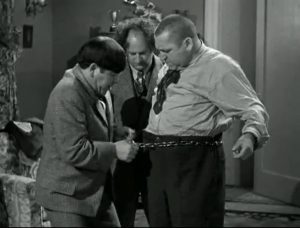 In an effort to help their fiancées' father, a warden who has been overthrown by one of his convicts, the Stooges go undercover at the jail, which is now being run as a nightclub. When they successfully crash the party, they get the best reward of all: marriage to three lovely ladies.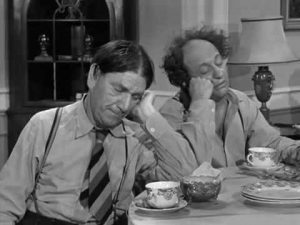 It isn't just politics as usual when the Stooges, working as janitors inside a presidential candidate's campaign headquarters, are recruited by the crooks in charge of the campaign. The balance of world power has never been so… well, unbalanced.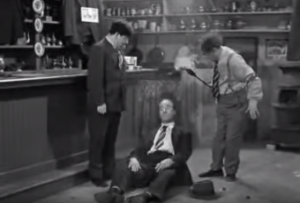 Pawnbrokers Larry, Moe and Curly get more than they bargained for when a curvaceous con girl leaves them carrying the bag — which contains a baby boy, who now wants to know why he has three fathers!
---
Although I'm unhappy that Columbia has decided to decrease the number of Three Stooges shorts per DVD, it's still some very good Three Stooges short films (the only 'weak' film in my opinion is Three Loan Wolves, but that's a personal opinion), and I recommend it.