The Three Stooges: Curly Classics DVD collection

The Three Stooges: Curly Classics gives a 108 minutes of six Three Stooges classics, all dealing with the Three Stooges and Curly in particular: A Plumbing We Will Go (1940), Men In Black (1934), Micro-phonies (1945), Punch Drunks (1934), Three Little Pigskins (1934) and Woman Haters (1934).
Most of these are true classics, and some of the funniest Three Stooges shorts of all times, with the exception of Woman Haters their first film for Columbia. Famous routines include Curly going crazy at the sound of music (a gimmick re-used many times since), Curly lip-syncing to music, the Stooges impersonating well-qualified people (plumbers in A Plumbing We Will Go and football stars in Three Little Pigskins), and of course Curly's trademark "Woo woo woo woo!" (used for the first time in Men in Black.
Prior to the release of the Three Stooges DVD collections (which include multiple years' worth of short films per release) I rated it 5 clowns – highly recommended. Now that the entire catalog of Stooge shorts are available, I frankly wouldn't bother anymore, and simply get that years' worth of the collection for the same price.
Three Stooges: Classic Curly DVD features
The 108-minute DVD contains these shorts: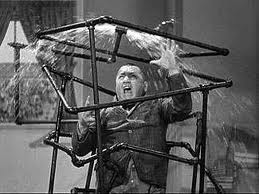 To escape the police, the Three Stooges pose as plumbers. They're hired to fix a leak in a fancy mansion. They wind up crossing the electrical system with the plumbing and generally ruin the place. One of their funniest shorts.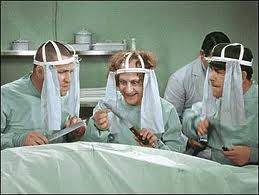 One of the Three Stooges most famous, and funniest, short films. Men in Black was inspired by a medical drama, Men in White (no, it has nothing to do with Will Smith). It features Moe, Larry and Curly as doctors in a hospital – is there anyone who does not remember "Paging Dr. Howard, Dr. Fine, Dr. Howard" with a smile? This was the only Three Stooges short to be nominated for an Academy Award.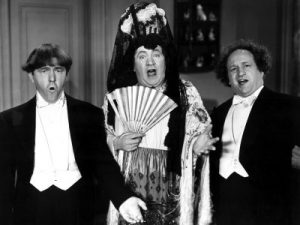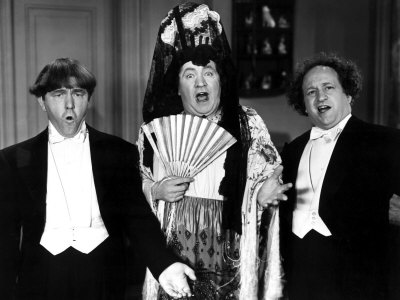 The Three Stooges are working in a radio station where a pretty girl (played by Christine McIntyre, the same girl that breaks Shemp's nose in Brideless Groom) has just made a recording of "Voices of Spring" under an assumed name. She wants to hide her aspiring singing career from her disapproving society parents while auditioning for Mrs. Bixby's "Krispy Krunchy" radio program. After a run-in with a pompous violinist, the boys find the record and Curly starts mimicking to it, dressed as a woman.
Mrs. Bixby witnesses their performance and is impressed enough to hire "Senorita Cucaracha" (Curly) and Señor Mucho (Moe) and Señor Gusto (Larry) for her radio program. The boys show up in their disguises to "sing" at a Mrs. Bixby's party but run into trouble when Moe smashes the record over Curly's head. The real singer tries to help by singing from behind a curtain while Curly mimics. But she is discovered and the Stooges exit to a hail of phonograph records.nor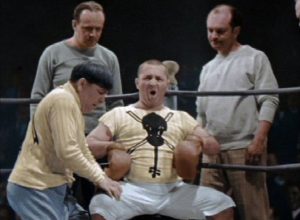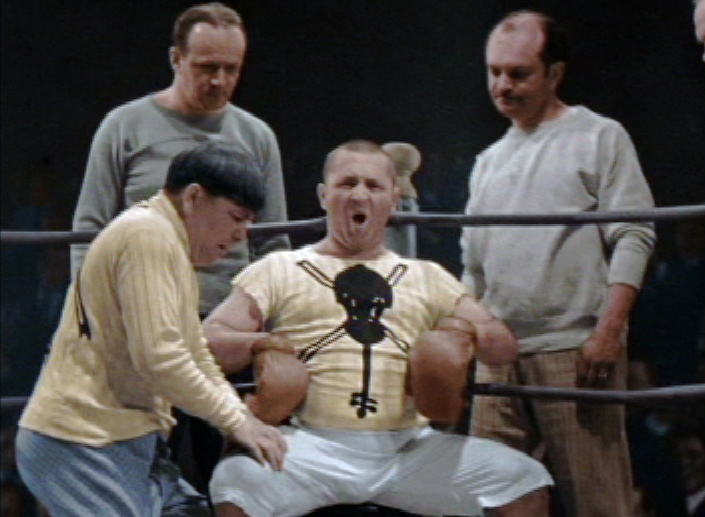 Moe, a down-and-out boxing promoter, orders lunch at the restaurant where Curly is the waiter. Musician Larry is there, and plays 'Pop Goes the Weasel' on his violin. This causes Curly to become crazy whenever he hears the tune — knocking out a boxing champ. Moe uses this to promote Curly as a great fighter, with Larry providing the music. Until at the title fight Larry's violin is accidentally destroyed. How will Larry provide the music in time? An excellent short, one of their best, with more character development than normal.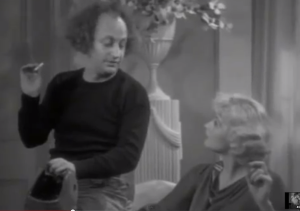 The Three Stooges are mistaken for the "Three Horsemen of Boulder Dam," famous football players, and hired by a gambler to play for his team. They agree, blow the big game, and get their just deserts. A young Lucille Ball has a part as a gun moll.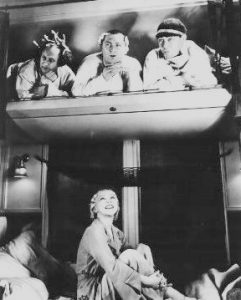 The very first Three Stooges short film made for Columbia – with a few seeming oddities. All of the dialog is spoken in rhyme, the Stooges' character do not share the actors' names, and there's much less slapstick than we're accustomed to — but over all, a nice beginning. It's interesting to see how the Stooges' characters and films progressed from this. The basic plot is, the Three Stooges swear off women for life, joining the Women Haters club. Larry goes to break up with his girl, only to be frightened by her father, and marries her instead. He then tries to hide the news from his two fellow members of the club.