The Three Stooges: Dizzy Doctors gives a 93 minutes of six Three Stooges classics, all dealing with the Stooges and doctors in some sense or another, in a random order: "Dizzy Doctors" (1937), "Bubble Trouble" (1953), "Termites of 1938" (1938), "Listen Judge" (1946), "The Tooth Will Out" (1946), and "Brideless Groom" (1947). The shorts cover some familiar territory; "Bubble Trouble" is a remake of "All Gummed Up," although with a different (and I think superior ending — Moe acting like a chimp after quaffing their potion).
"Termites of 1938" contains one of their classic "mocking the upper crust" routines – where upper society folks begin to imitate the Stooges' eating habits – a classic bit is where Curly starts using his knife to catapult peas into his mouth, and the other guests follow suit. The audio and video are good. "Brideless Groom" is available in the public domain from countless sources, but few look at good as this restored version (it's also available on The Three Stooges in Color in both original and colorized formats)
Three Stooges: Dizzy Doctors DVD features
The 93-minute DVD contains these shorts: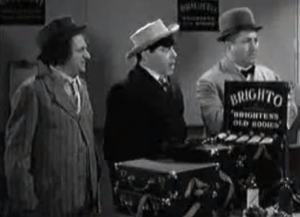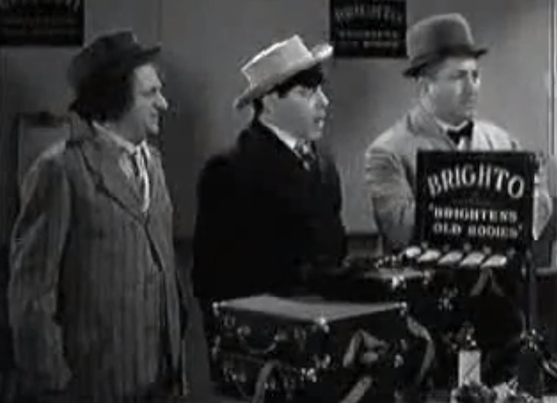 Moe, Larry, CurlyThe Three Stooges get a job selling "Brighto", which they initially think is cleaning fluid. "Brighto, Brighto, makes old bodies new — we'll sell a million bottles, woo woo woo woo!" After ruining a cop's uniform and a new car, they discover Brighto is actually medicine. Taking their sales pitch to a hospital, they get into more trouble and must leave on the run when the head of hospital turns out to be the owner of the car they ruined.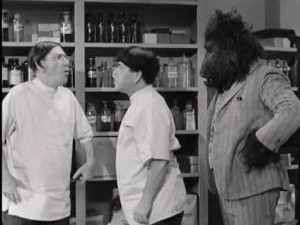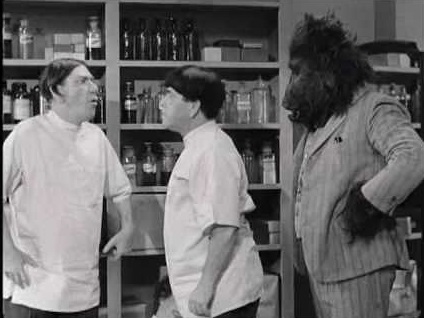 Moe, Larry, ShempThe Three Stooges are pharmacists who invent a fountain of youth formula that can turn old people young. They turn an old lady (Christine McIntyre) into a beautiful young woman, but when her husband (Emil Sitka) takes the formula it turns him into a gorilla.
The Three Stooges, pest exterminators, are mistaken for male escorts and hired by a rich society woman to help impress her guest of honor. A scene ensues where the guests at an upper class party rely on the Stooges to help them with their table manners.
Moe, Larry, ShempA partial remake of "An Ache In Every Stake." The Three Stooges, after escaping a court charge of vagrancy and chicken-stealing, drive the servants out of an upper-crust house (owned by the Judge whose courtroom they escaped) while trying to repair the doorbell, and replacing the staff in time to ruin the dinner with an exploding cake – all over the Judge. Wonderful scene where Moe talks back to a French chef (played by the great Emil Sitka).
"The Tooth Will Out" (1946)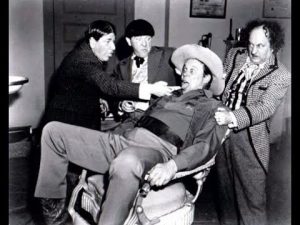 Moe, Larry, ShempThe Three Stooges perform dentistry in the Old West. "Go West, young man, go west!" begs their dentistry professor, and so they do. Shemp does his classic blind act while trying to pull teeth, and the Stooges mix up "The Amatuer Carpenter" with their dentistry manual.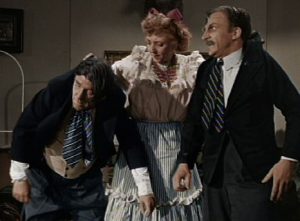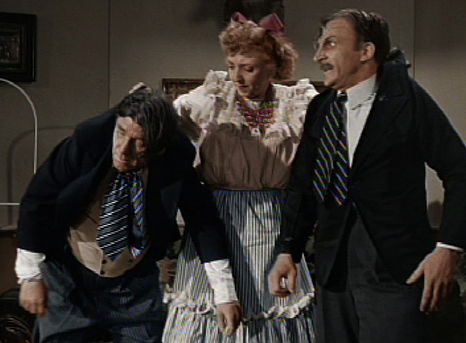 Moe, Larry, ShempTo inherit a fortune, voice teacher Shemp must marry before six o'clock, but no girl will accept his proposal. Finally one of his repulsive students agrees to marry him, just in the nick of time. When the rest of the prospective brides hear about the inheritance, they show up at the ceremony and a free for all ensues. Shemp marries before the deadline, but wishes he was still a free man. "Hold hands, you lovebirds."