I Can Hardly Wait (1943) starring the Three Stooges (Moe Howard, Larry Fine, Curly Howard)
Synopsis of I Can Hardly Wait
In I Can Hardly Wait, after making a meal with rationed food during World War II, Curly breaks a tooth. The bulk of the short deals with Moe trying to pull the broken tooth in a dream sequence.
Review of I Can Hardly Wait
Like many of the Three Stooges short film, I Can Hardly Wait is broken into two halves. The first half begins with Moe, Larry, and Curly seemingly breaking into a safe. It's actually their refrigerator. During World War II, some food was rationed, and the Stooges take slapstick into cooking a slice of ham. It's very funny when Curly thinks he's got the ham is is quickly trying to make a sandwich out of it, cutting a loaf of bread in half and mistakenly covering Moe's hand with mustard.
When it's time to eat, however, Moe takes advantage of Curly when he distributes the food "evenly":
Curly: Wait a minute, wait a minute! You said you were gonna divide everything up equally!
Moe: Oh, ungrateful, eh?
Curly: Yeah!
Moe: We get a half a slice of ham and a half an egg apiece. You get a whole bone and a whole eggshell, and you're squawkin'!
Curly: I'm sorry, fellas… gee, you guys are swell to me.
In the process of eating his "supper", Curly breaks a tooth on the bone, which leads to the second half of I Can Hardly Wait. The Stooges try to go to bed (in a triple-decker bunk bed), but Curly's pain keeps him up. The short film soon segues into an extended dream sequence.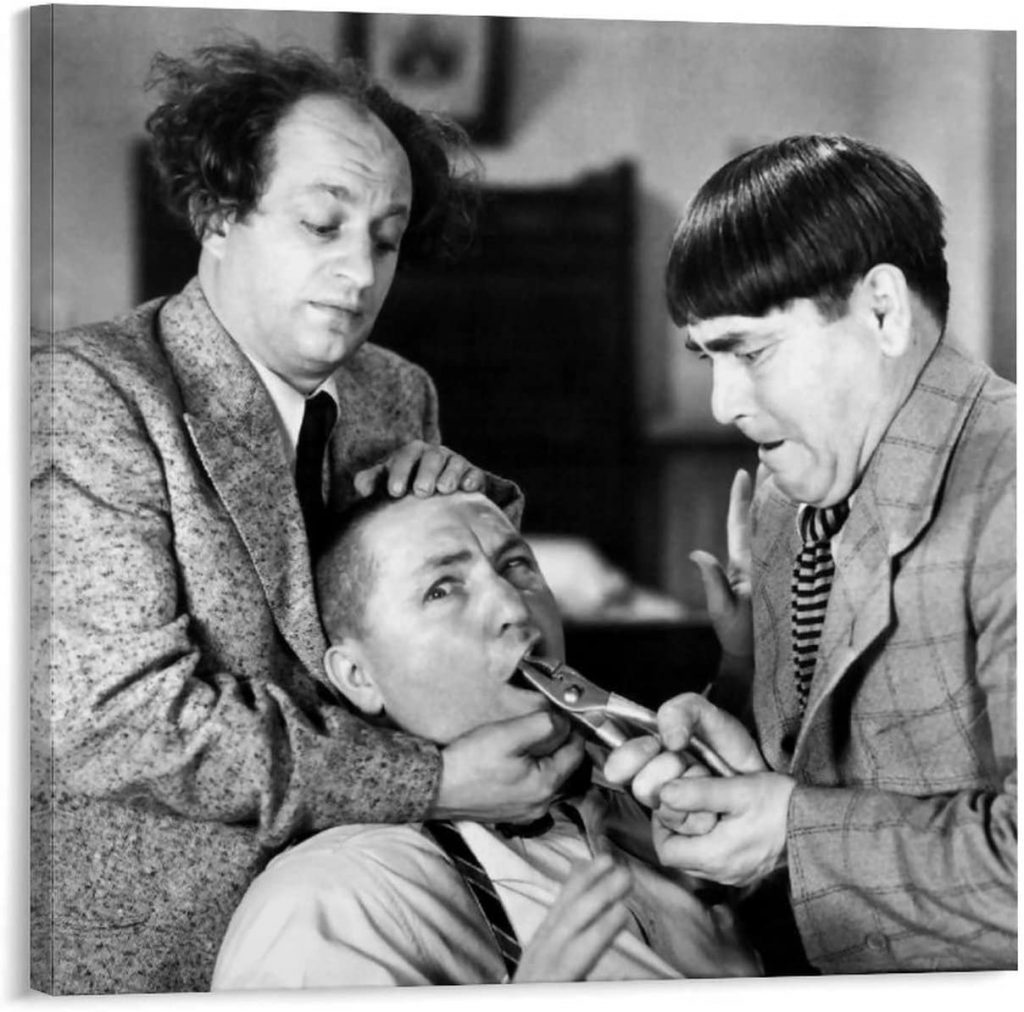 In the dream, Moe tries to pull the tooth (unsuccessfully) in a variety of slapstick ways. Giving up, he takes Curly to a dentist … a former butcher! While there, the dentist's partner, played by Bud Jamison, pulls the tooth of the person in the chair. Unfortunately, it's Moe!
The Stooges go back to their apartment, fail again, and Curly (in the real world) collapses the triple decker bed, and Moe punches him in the mouth. And this knocks the tooth out, and the Stooges fall asleep in the destroyed bed, ending the short film.
Summary
In short, I enjoyed I Can Hardly Wait — but I can't say that I loved it. The dentist routine has been done by others … and sad to say, probably better.
Cast of characters
Additional cast