Shemp Cocktail – A Toast to the Original Stooge
For a long time, I've been a fan of Shemp Howard, the under-appreciated "third stooge" of the Three Stooges. Most people don't realize that Shemp was the "third stooge" for many years as the Stooges appeared on stage, before their movie career. And he was also the only one of the Stooges to have a successful career away from the Stooges. He appeared with W. C. Fields in The Bank Dick, with Abbott and Costello in several of their movies (Buck Privates, In the Navy, Africa Screams), in musicals (Private Buckaroos with the Andrews Sisters) and in over a hundred other films. One thing that I've always respected about Shemp is that, after rejoining the Three Stooges to replace his disabled brother Curly, Shemp didn't attempt to be a poor imitation of Curly. Instead, he stuck with his original Stooge character. He was not only secure in his own skin, but he was very funny as well.
Having said this, is this DVD collection worth buying?  The bad news is that the films aren't restored, and many of them are commonly available in other places. Africa Screams, The Brideless Groom, Sing a Song of Six Pants, Malice in the Palace are all in the public domain.  The other ones, however, may not be in your collection, and are worth watching. Private Buckaroo is a good example of Shemp stealing every scene that he's in; the Ed Wynn Show isn't commonly available, and this episode with the Three Stooges is hilarious!  If you already have all of these, then don't bother. If you don't have more than half, then you probably want to take a look at this. It retails for under $20.00 USD at the time of this writing. And, its available for less than that at Amazon.com.
Product Description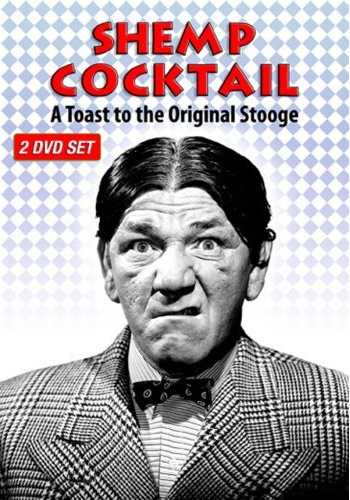 Much has been made of Moe, Larry and Curly – and rightly so – but Shemp Howard was a comic master too often overlooked, with a solo career that far outshone that of the other Stooges. Apart from costarring in many classic Three Stooges shorts, Shemp appeared opposite such fellow comic legends as W. C. Fields, Ed Wynn, Bert Lahr, and Abbott & Costello, as well as such luminaries as John Barrymore, William Powell, Jack Haley, and The Andrews Sisters.
This long-overdue 2-disc spotlight on Shemp – one of the first and one of the last Stooges and brother of Moe and Curly Howard – contains two early 30s solo Shemp shorts; a trio of Shemp's Three Stooges shorts; a live TV Camel Comedy Caravan with Shemp, Larry, and Moe; the complete 1942 feature Private Buckaroo, starring Shemp and The Andrews Sisters; the 1949 feature Africa Screams, starring Abbott & Costello and Shemp – and more, including outtakes from Africa Screams and sequences from the 1935 drama Convention Girl, in which Shemp plays it straight as a smalltime hood!
But the real treasure is a remarkable, revealing, and very intimate look at Shemp Howard's life and career featuring exclusive interviews with Shemp's daughter-in-law, Geri Howard Greenbaum; Geri's sister, Diane Silvers; and Shemp's granddaughter, Jill Howard Ullo. These touching, humorous and fascinating firsthand reminiscences are supplemented by rare, never-before-seen home movies, personal photos, and priceless memorabilia from Geri, Jill, and Shemp's second granddaughter (and namesake), Sandie Howard Isaac. A well-deserved salute that is a must for fans of the Three Stooges and classic comedy!
Disc One
Disc Two
The Brideless Groom (1947) – Moe and Larry help Shemp get married immediately so he won't lose out on his inheritance. Hold hands, you lovebirds! (16:35)
Sing a Song of Six Pants (1947) – Shemp, Moe and Larry have "pressing business" in a dry-cleaning store but get mixed up with bank robbers. (16:53)
Malice in the Palace (1949) – Shemp, Moe and Larry are restaurateurs who run off to a faraway land in search of the Rootin Tootin Diamond. (15:42)
Camel Comedy Caravan (1950) – A rare, live kinescope with Shemp, Moe and Larry as TV executives (!) who harass Ed Wynn on his television show. (28:07)
Bonus:
Remembering Shemp – An intimate look at Shemp Howard's life and career featuring exclusive interviews with Shemp's daughter-in-law, Geri Howard Greenbaum; Geri's sister, Diane Silvers; and Shemp's granddaughter, Jill Howard Ullo. These touching reminiscences are supplemented by rare, never-before-seen home movies, personal photos, and priceless memorabilia. (approx. 45 mins.)