Sock-A-Bye Baby begins with a distraught mother (Julie Gibson) leaving a baby on the doorstep of the Three Stooges (Moe, Larry, and Curly). Who are sleeping as restfully as ever (snoring a symphony). The Stooges take the infant in, and try to get him to stop crying by making silly faces …. But it's not until they start crying over their inability to make him stop that – he stops! Eventually they all go back to sleep, with Baby Jimmie sleeping on the bed. And his three would-be adoptive fathers sleeping on the floor.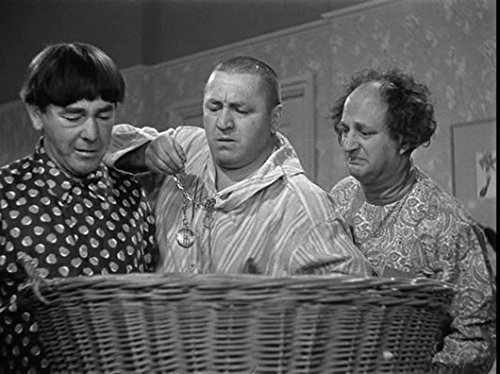 Realizing that the baby will be hungry when he wakes up, and that they have no idea what to feed a baby, the boys get dressed and send Larry to the store, so they can make a smorgasbord meal and let the baby pick the foods that he likes to eat. This leads into a typically funny example of the Stooges trying to cook a meal — for example, when Moe is trying to squeeze juice out of an onion and gets squirted in the eye, "Oh, a Nazi onion," or Curly with "I've got the cheese! Ouch! these mousetraps hurt!"
Feeding the baby
Once Larry returns from the store, there's a recurring joke with each of the Stooges trying to steal sips from the beer bottle that Larry brought back (complete with baby bottle nipples). Curly strives to clean celery (with soap and a scrub brush), Larry sneezes into the flour, and then they realize the problem they have – the baby's diaper needs changing, they have no diapers, and they don't have a clue as to how to change a diaper. So Moe decides that they need to practice, and Curly is the test subject. It's a very funny routine, especially when they try to put the oversize diaper on Jimmie and he falls right through. Until Moe makes a few "minor alterations" – it's a very funny scene, especially the first time that you watch it.
Afterward, there's a very funny routine as they try feeding the various foods to baby Jimmie, his reactions, and the Three Stooges reactions – and the food they need to wipe off their faces. While Jimmie's trying to eat his spaghetti, Larry runs in with the newspaper.
Kidnapping?
There's been a kidnapping, and it looks like it was little Jimmie, with the kidnapper having gotten cold feet and dropped off the baby with a fake note. Immediately afterward, the police arrive. Moe decides that they need to hide the "evidence" and try to evade the cops. One of which is played by Three Stooges regular Bud Jamison.
The Three Stooges try to get away in their car, with the police in hot pursuit, but are able to "cleverly" disguise their vehicle, and escape the notice of Bud Jamison. The police do track them down, and baby Jimmie is returned to his parents. The Three Stooges, however, make a conspicuous escape by hiding in large haystacks.
Funny movie quotes from Sock-A-Bye Baby starring the Three Stooges
Moe (Moe Howard): It's bad enough you snore like a train, but when you cry like a baby that's too much.
---
Moe (Moe Howard): Isn't he cute?
Curly (Curly Howard): Gee, I wonder if I looked like that when I was delivered by the stork.
Moe (Moe Howard): When you were born, you were delivered by a buzzard.
Curly (Curly Howard): Oh, special delivery, eh?
---
Moe (Moe Howard): You want to wake the kid up?
Larry (Larry Fine): I almost forgot, I'm one-third of a father.
---
Larry (Larry Fine): Hey, what do kids eat?
Moe (Moe Howard): What do kids eat? That's easy. Soft stuff; no bones, no potato chips. What did you eat when you were a baby?
Curly (Curly Howard): Weeds.
---
Moe (Moe Howard): For once you're showing a slight trace of brains.
---
Curly [trying to say "artichoke"]: Maybe he'd like a smarty cone – a party smoke – an okie-doke – this feathered apple!
Moe (Moe Howard): Ya oughta-choke.
Curly (Curly Howard): You too.
---
Curly (Curly Howard): [trying to eat an artichoke] I'd like to meet the guy who invented these barbed-wire pineapples!
---
Trivia for Sock-A-Bye Baby starring the Three Stooges
The title of the film is a parody of the lullaby "Rock-a-bye Baby".
While washing the celery being prepared for Jimmie's meal, Curly sings an a cappella nonsense song that has lyrics that possibly refer to Curly imagining he was a coffee bean, as the lyrics of the song refer to a Brazilian origin at its start.
Julie Gibson also appeared in the Three Stooges short, Three Smart Saps
This short is one of the relatively few that contains explicit racial humor. Specifically, after Curly begins singing a song about Japanese people, he catches himself and says "What am I saying? [Curly spits] on the Japanese." It should be noted that this short was made during World War II, when the United States was at war with Japan.
Cast of characters
Additional cast