The Three Stooges – Stooges in History – starring Moe, Larry, Curly, Shemp
Product Description of The Three Stooges – Stooges in History
Five shorts starring The Three Stooges:
Moe, Larry and Shemp are three royal troubadours who are enlisted by Cedric the Blacksmith (Jock Mahoney) to win the heart of Princess Elaine (Christine McIntyre) who is set to marry the Black Prince (Philip van Zandt) with a serenade. But their plan hits a sour note when the Stooges and Cedric are arrested and sentenced to death.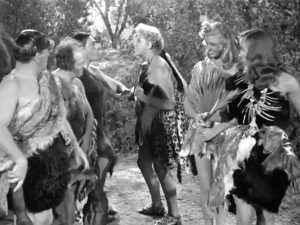 Cavemen Larry, Moe and Shemp find themselves in an un-bear-able situation when they steal the girlfriends of nearby cavemen, who declare war in retaliation. The Stooges fight back with an arsenal of inventive weapons, proving the animals aren't the only things that are wild around there.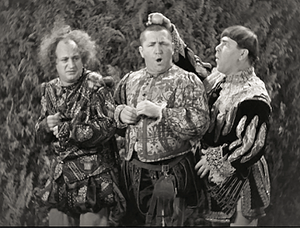 Almost immediately after the queen hires Larry, Moe and Curly to be her bodyguards, she is abducted, which provides Prince Boris with the perfect opportunity to be rid of them once and for all. Facing execution, the Stooges fight for their lives and wind up en garde for a regal victory.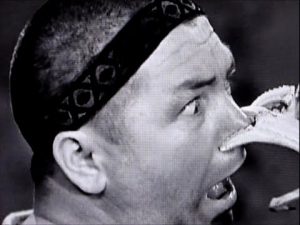 It's a bad case of Stoogeus Interruptus when potters Mohicus, Larrycus and Curlycue let Diana seek refuge from Emperor Octopus Grabus (Vernon Dent) in their shop. They're arrested, but when Curlycue disguises himself as Diana, the Emperor's passion is unlocked and they find themselves on the run from jail and the altar.
The Stooges can be a royal pain in the—well, you know—but sometimes they're the butts of the joke. Moeth, Larryeth and Shempeth are royal fiddlers who become the targets of an evil magician (Philip van Zand) when they try to rescue their noble ruler's (Vernon Dent) daughter, whom he has abducted.