In Calling All Curs, The Three Stooges (Moe Howard, Larry Fine, and Curly Howard) run a pet hospital and get an important patient, Garcon, a rich ladies poodle. When dognappers posing as reporters steal the poodle, the boys are in a tough spot. First, they try to fool their client by disguising a mutt as the poodle. When that doesn't work, they use the mutt as a bloodhound to track down the crooks. When they discover the bad guys' hideout, Curly defeats them in a fight and they find Garcon, only to discover that 'he' has had a litter of puppies.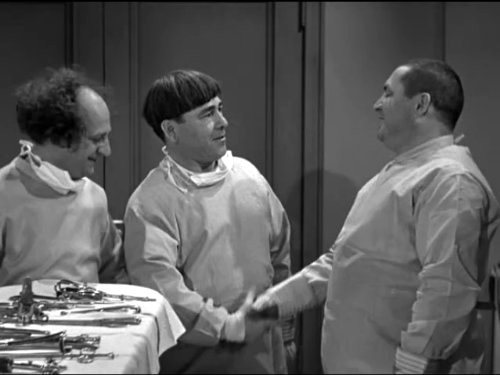 Calling All Curs is one of the Three Stooges best efforts. Filmed in 1939, they were at the height of their game, with several highlights. For example, Curly has a rare moment of standing up to Moe as Moe is stuck in the middle of a wall. Very funny, and highly recommended. Calling All Curs is available on the DVD collection of The Three Stooges Collection, Vol. 2: 1937-1939.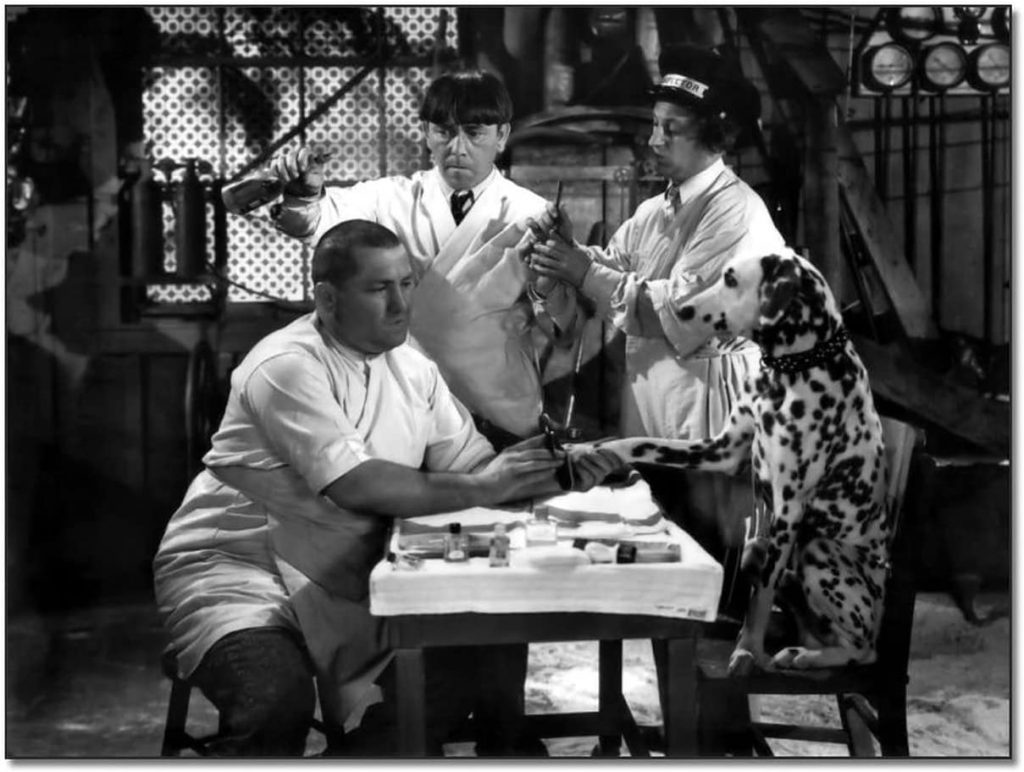 Funny movie quotes from the Three Stooges in Calling all Curs (1939)
Curly (Curly Howard): I try to think, but nothing happens!
---
Moe (Moe Howard): Quiet, you hot airedale!
---
[to Larry, as Larry is washing his socks]
Dr. Curly (Curly Howard): What are you doing?
Dr. Larry (Larry Fine): [to Curly] Well, it's Monday isn't it?
Dr. Curly (Curly Howard): [throws socks at Larry] Come on we have operating to do.
---
Dr. Moe (Moe Howard): [on loudspeaker] Calling Dr. Curly. Calling Dr. Curly.
Dr. Curly (Curly Howard): What do you want?
Dr. Moe (Moe Howard): Listen, you onion head, you march yourself in here and wash that dog.
Dr. Curly (Curly Howard): Oh, you do it yourself.
Dr. Moe (Moe Howard): Oh, mutiny, eh?
Dr. Curly (Curly Howard): Yeah, and it's not out on the bounty.
[sticks out tongue and gets punched through loudspeaker by Moe]
Dr. Moe (Moe Howard): [sticks head out of loudspeaker] Now come in here like I told you.
[Curly starts to leave]
Dr. Moe (Moe Howard): [Moe's head is stuck in loudspeaker] Hey, what a minute. I'm stuck.
Dr. Curly (Curly Howard): Are you sure?
Dr. Moe (Moe Howard): I'm positive I can't move.
Dr. Curly (Curly Howard): Oh!
[plucks Moe's eyebrows]
Dr. Curly (Curly Howard): She loves me. She loves me not. She loves me.
[Curly then pulls off loudspeaker and barks at Moe and takes off]
Cast of characters
Additional Cast