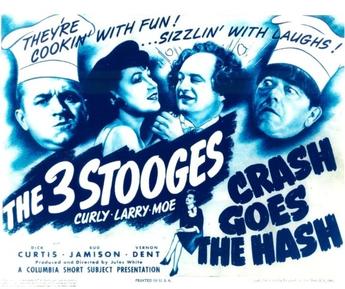 Crash Goes the Hash is a very funny Three Stooges short film in its' own right, and is also the final Three Stooges short film with long-time regular Bud Jamison. The film begins at a newspaper with editor Fuller Bull (played by long-time Stooges regular Vernon Dent) lambasting his "ace" reporters who are unable to get the scoop on the supposed engagement between socialite Mrs. Van Bustle and Prince Shaam of Ubeedarn.
After a slapstick moment, Bull sees what he believes to be a news van outside of his office window belonging to a rival, Star Press – and he orders the three "reporters" to come up to his office. They are, in fact, Moe, Larry and Curly, who work for "Star Cleaners & Pressing" — in short order, the "reporters" are hired to sneak into the Van Bustle mansion for a party that night, to get a photograph of the camera-shy Prince Shaam (played by Dick Curtis).
Into the mansion
Soon the Three Stooges have bluffed their way into the mansion, convincing the head butler (played by Bud Jamison, in his final Three Stooges role) that Moe is the new cook and Larry and Curly are the new butlers. They do their well-known "canapés/can 'a peas" routine, and soon Curly and Larry are pestering the guests while trying to get a photograph of Prince Shaam. While sneaking around (and getting caught inside the piano) Larry overhears the couple's plan to elope.
While Curly makes much of a scene where he's dispensing lemonade — a very funny routine, especially his interaction with Bud Jamison. Later, after serving a cooked turkey (which an escaped parrot has walked into, and walks down the dinner table) Prince Shaam leaves in a huff — the Three Stooges follow, in order to get their photograph (and the promised $100 bonus) and take a picture of the Prince in a darkened room.
Prince Shaam is …
However, Prince Shaam really is a sham — he and the head butler are cracking Mrs. Van Bustle's safe.  A slapstick fight ensues, with some very funny moments. It ends with Moe "sharing" a jacket with "Prince Shaam". He gets involved in a rotating fight, similar to Shemp at the end of Sing a Song of Six Pants.  The short ends back at the office of Fuller Bull, where the Stooges have delivered an enormous scoop and get their bonus — and in a very funny bit, Curly receives a marriage proposal from Mrs. Van Bustle!
I enjoyed Crash Goes the Hash, and hope that you do as well. I rate it 4 stars out of 5. Crash Goes the Hash is available on DVD as part of The Three Stooges Collection, Vol. 4: 1943-1945
Funny movie quotes from Crash Goes the Hash starring the Three Stooges (Moe Howard, Larry Fine, Curly Howard)
Larry (Larry Fine): I've been running all morning till the hem on my pants are frayed.
Moe (Moe Howard): 'Fraid of what?
---
Fuller Bull (Vernon Dent): I want to find out if he intends to press his suit.
Curly (Curly Howard): He ought to! No man should get married in a wrinkled suit!
---
Vernon Dent: You get me a picture of Prince Shaam, and I'll give you each a one hundred dollar bonus.
Curly (Curly Howard): What good is a hundred dollar bogus?
Larry (Larry Fine): Bonus, not bogus! Don't you know what 'bonus' is?
Curly (Curly Howard): Certainly! Spanish. Bonus notches.
---
Butler Flint (Bud Jamison): [to Moe] So you're the new cook! Now, remember, we serve dinner promptly at 8. And, incidentally, are you good on stews?
Curly (Curly Howard): Certainly! He's always half-stewed!
---
Butler Flint (Bud Jamison): Such levity! You remind me of the Three Stooges.
Curly (Curly Howard): That's an insult!
---
Mrs. Van Bustle: Fool!
Curly (Curly Howard): So am I!
---
Moe (Moe Howard): Canapes! Hor d'oevres!
Curly (Curly Howard): Which do you want, a can of peas or derves?
---
Moe (Moe Howard): They're snacks on a cracker … they give you an appetite like a horse!
Curly (Curly Howard): Oh! Animal crackers!
---
Butler Flint (Bud Jamison): Don't handle the ice with your hands, you featherbrain!
Curly (Curly Howard): You're right, I think I'm gettingchilblainss. Here, hold this! [put the ice cubes in Bud Jamison's hands]
---
Parrot: Jeepers, creepers, what a night!
---
Curly (Curly Howard): [to Moe, who is holding a camera] Remember don't shoot until you see the bags under his eyes!
---
Larry (Larry Fine): One of us is crazy, and it ain't you!
Trivia for Crash Goes the Hash – starring the Three Stooges (Moe, Larry Curly)
Bud Jamison's final Three Stooges short
During the filming of this short, Curly Howard suffered one of his first "small strokes". This is evident in the opening outdoor sequence in which Curly's face looks worn and his voice sounds scratchy. However, the reason why Curly appears more lively in the follow-up sequences is because the opening outdoor sequence was filmed last. All of the other sequences were filmed on sets, before his early stroke.
Curly briefly speaks in his normal voice when he asks Larry to take a candid camera photo of the prince, while Curly "peddles" the lemonade.