Biography of Symona Boniface, famous character actress with many appearances with the Three Stooges
Symona Boniface (March 5, 1894 – September 2, 1950)
Symona Boniface was an American film actress born on March 5, 1894, in New York City. She began her acting career in the 1930s and went on to become a prominent character actress in Hollywood films for over two decades.
Symona Ferner Boniface was born on March 5, 1894 to stage actor George C. Boniface. In fact, she also began her professional career as a stage actress, playwright, and producer. In 1925, she married Frank Pharr Simms, a salesman and real-estate broker. But then the stock market crash of 1929 hit, and times were hard. She began working in films, often in uncredited bit parts. In the 1930's, she signed a contract with Columbia Pictures, and began appearing in their comedy shorts. Which led to her numerous appearances with the Three Stooges.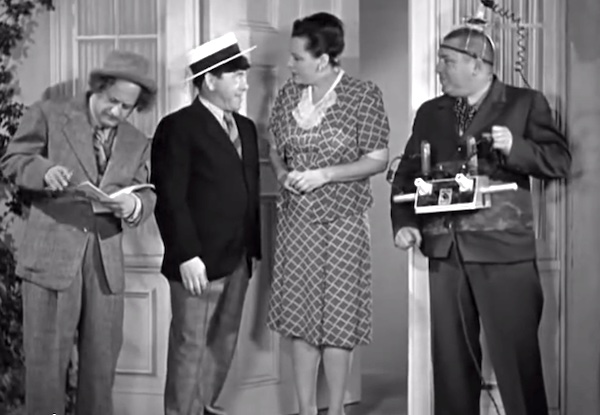 She often played the part of a stodgy society matron, whose dignity was upended by the Stooges. Probably her most famous scene was with Moe Howard at a society party in Half-Wits Holiday. Moe's taken a pie from Curly, and with Symona approaching he gets rid of it by throwing it straight up, where it's sticking to the ceiling …. And about to fall:
[pie dangling from ceiling, unknown to Mrs. Smythe-Smythe]
Mrs. Smythe-Smythe (Symona Boniface): If you don't tell me about this metamorphosis, I shall always feel as though I've missed something.
Moe (Moe Howard): Lady, if you don't move, you won't miss anything!
Mrs. Smythe-Smythe (Symona Boniface): Young man, what's wrong? You act as though the sword of Damocles is hanging over your head!
Moe (Moe Howard): Lady, you must be psychic!
Mrs. Smythe-Smythe (Symona Boniface): What is wrong with that young man? [looks up, gets hit with pie]
Symona Boniface passed away on September 2, 1950, in Woodland Hills, California, at the age of 56 from pancreatic cancer. Oddly, she continued to appear in Three Stooges comedy shorts for several years after her death, due to Columbia's reusing footage in new comedy shorts.
Symona Boniface appearances with the Three Stooges
Trivia