In Fifi Blows Her Top, Moe, Larry, and Joe reminisce over their lost loves after their service in World War II. But Joe has a chance of getting his love back …
Fifi Blows Her Top (1958) starring Moe Howard, Larry Fine, Joe Besser, Wanda Ottoni , Philip van Zandt
Technically, Fifi Blows Her Top isn't a remake of Love at First Bite — although it does use some footage from it. When Larry and Moe are reminiscing about their lost loves (Marie Monteil and Christine McIntyre), it's taken directly from that movie. Joe Besser, however, has an entirely new flashback scene.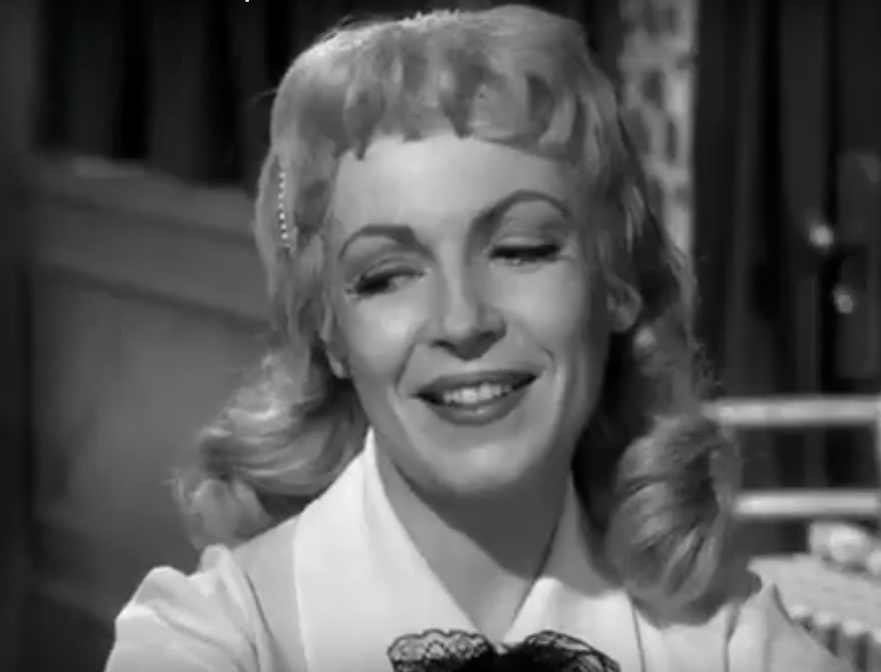 When he was serving overseas, he fell in love with a beautiful French girl named Fifi (Wanda Ottoni, billed here as Vanda Dupre). However, since he was AWOL at the time, he's taken away by the military police — immediately after proposing to Fifi. And then he's as sea for a full year. When he's able to return, he can't find her …
Finding Fifi
Done feeling sorry for themselves, the Three Stooges decide to rehearse their act. "Howard, Fine, and Besser — Stage, Screen, & Radar". Moe has Larry get rid of his chewing gum, which hits Joe on the nose. While rehearsing, Joe imitates knocking on the door. But a beautiful young lady is really knocking on their open door — Fifi!
The happy reunion is short-lived … Fifi's married! She and her husband have just moved into the Stooges' apartment building across the hall … And she's accidentally locked herself out. Moe tries to phone the landlady — but there's no answer. And he gets an earful of Larry's gum for his trouble.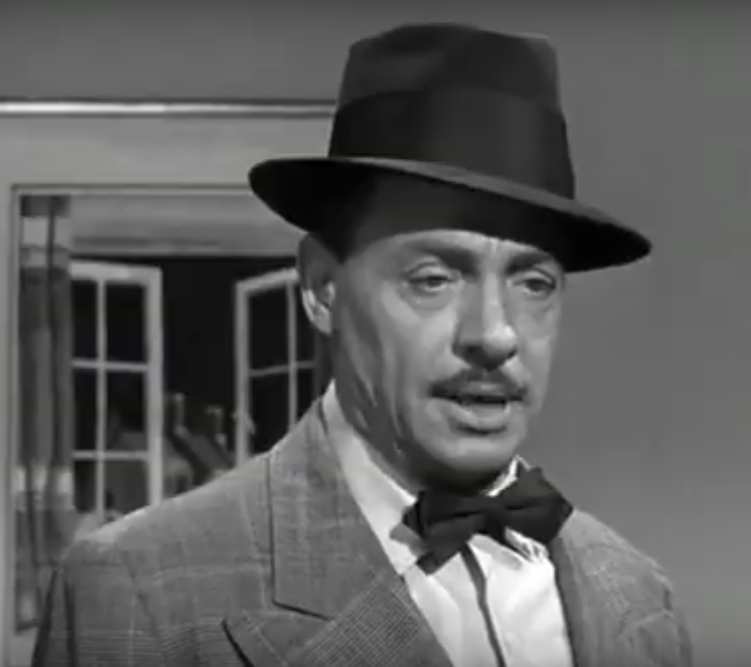 While Moe tries to clean himself up, Larry and Joe fight over the cocktail shaker — they were going to mix drinks for Fifi, but instead soak her with it. So, she changes into a pair of their pajamas while Larry presses her dress. Fifi reveals that her husbands is jealous, and "mean to me". Larry, with Moe's help, ruins her dress. Joe runs off to get the landlady's passkey, while Fifi's husband (Philip van Zandt) shows up across the hall!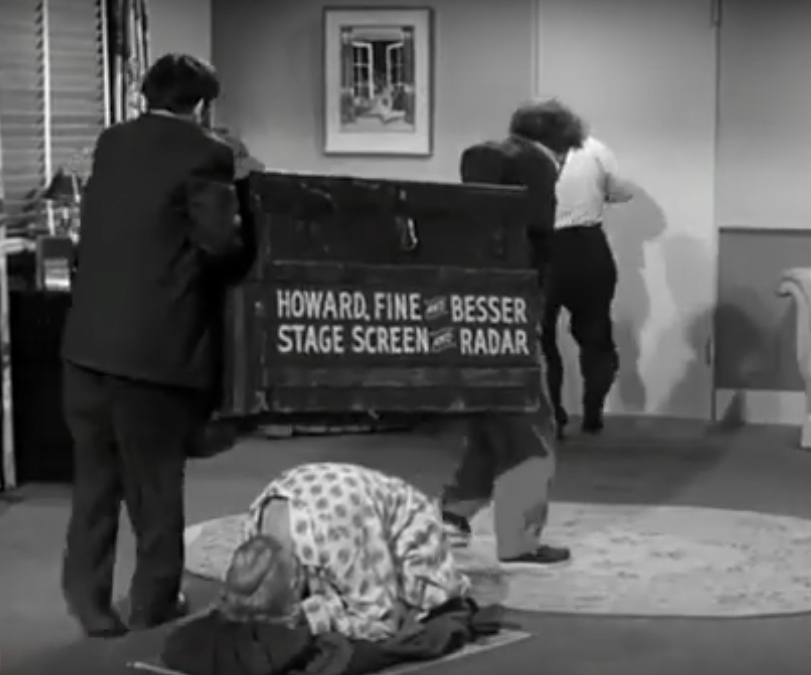 Fifi fights back!
Moe and Larry hide Fifi in their trunk, while her husband comes in to use the phone. They detour him to see the landlady to get another key, while they carry the trunk across the hall. However, only the top of the trunk lifts, leaving Fifi in their room. Thankfully, they cover her with the trunk before the husband comes back in. The foul-tempered man threatens to break her neck, and regrets having married her. He goes on about how he's planning to divorce her, and has his next wife all picked out.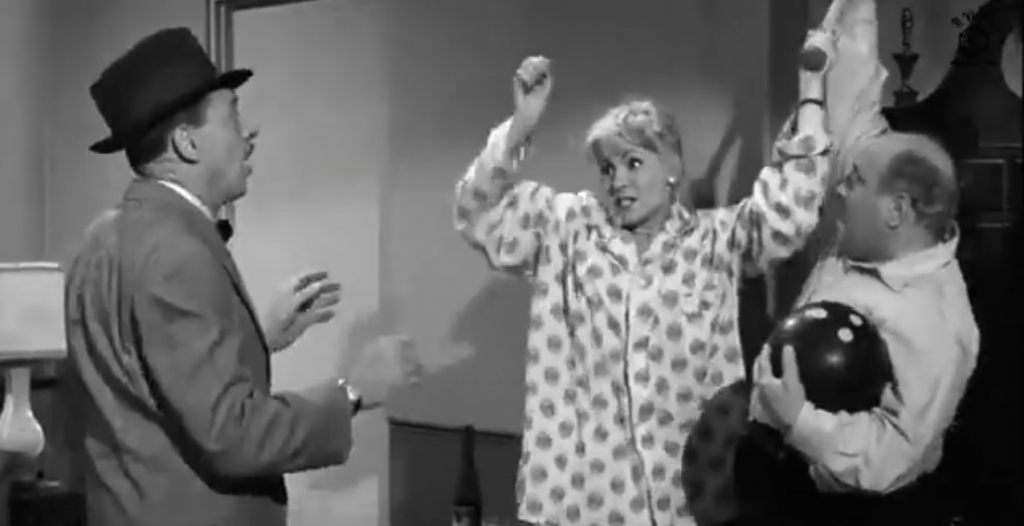 That's more than enough for Fifi, who gets out of the trunk, and starts assaulting her husband. Of course, she misses and hits Larry with a baseball bat. When Joe helpfully provides her with a bowling ball, the husband ducks … But Moe doesn't. She finally knocks him out with a telephone, and in her rage punches Joe as well. The short ends with her comforting Joe … "She still loves me!"
Review
Fifi Blows Her Top is an above-average Joe Besser Three Stooges short. It's not hilarious, but it is funny. Ignoring the two scenes from Love at First Bite, the conclusion where Fifi literally blows her top is the funniest bit of the short.
One other note: the entire story is ripped off copied from the Laurel and Hardy short film, Unaccustomed As We Are. Visiting neighbor, ruined dress, hiding in the trunk, husband unwittingly confessing his cheating to the wife in the trunk, etc. Frankly, I find the original Laurel and Hardy short funnier, but that's a matter of taste.
Quotes
Larry: [reminiscing about his lost Italian love] What a sweetheart. I should have married that girl…
Joe Besser: Why didn't you?
Larry: She didn't ask me!
---
Waitress: Two orders of everything for one man?
Joe Besser: You see, I'm expecting …
[Waitress stares as his stomach, misinterpreting that he's pregnant]
Waitress: Mr. G. I. Joe, you eat too much.
---
[Joe bumps into Larry spilling the cocktail onto Fifi's dress]
Moe Howard: [to Larry] Look what you have done.
Larry Fine: [pointing to Joe] He made me do it.
Joe Besser: [to Larry] You're a snitch!
---
[Trying to cover up for using the name Fifi, the Stooges pretend that "their" Fifi is a small French poodle]
Larry: Fellas, I just remembered … Fifi went to see a dog about a man!
---
Cast of characters
Additional Cast