Three Stooges short film Hold That Lion (1947) starring Moe Howard, Larry Fine, Shemp Howard, Curly Howard
Many people remember Hold That Lion as the only short film where Curly appears along with Moe, Larry and Shemp. Technically, this is true, as Curly has a short cameo appearance as a sleeping man on a train. But I frankly remember it for the "fight scene" in the first half of the short film with Kenneth MacDonald. It's a very funny Three Stooges short film in its' own right, and well worth watching.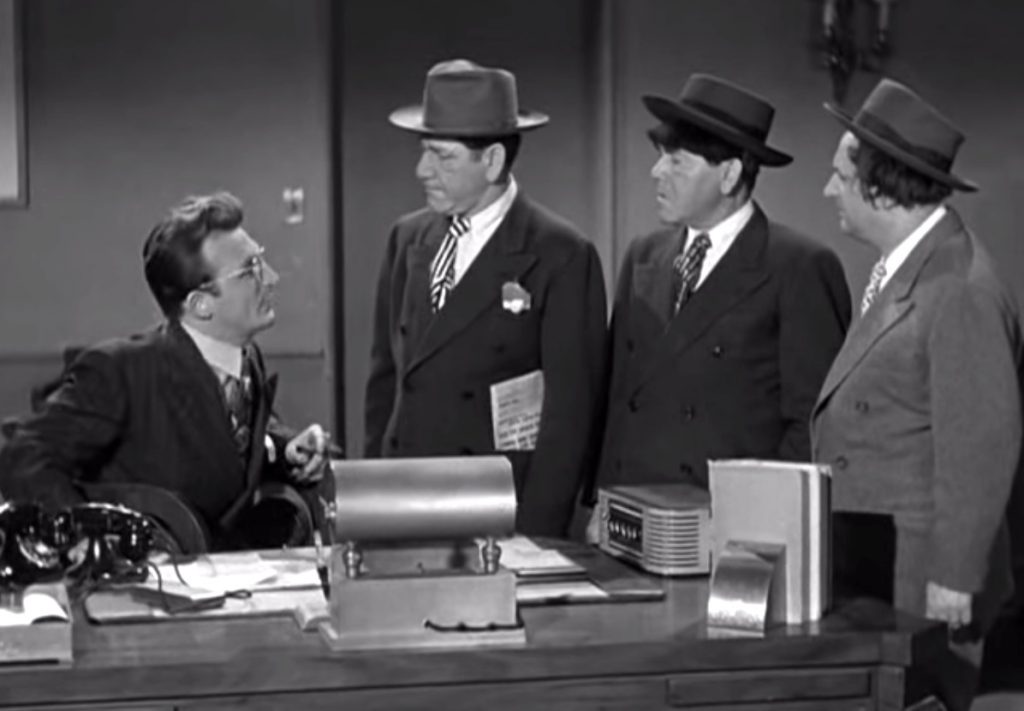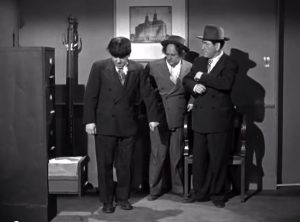 Hold That Lion begins with the Three Stooges (Moe Howard, Larry Fine, Shemp Howard) in the law offices of their attorneys, Cess, Pool & Drayne, where they're berating their attorney (played by the "fourth Stooge" Emil Sitka) for not helping them collect their inheritance from their late uncle, Ambrose Rose. It gives the Stooges some opportunities for slapstick, as Shemp needs to clean his glasses (pulling his handkerchief through the empty frames), fighting with a malicious file cabinet (the cabinet wins, of course) and ending with Emil Sitka giving them subpoenas for Ichabod Slipp, the investment broker who's holding onto their inheritance.
The search for Mr. Slipp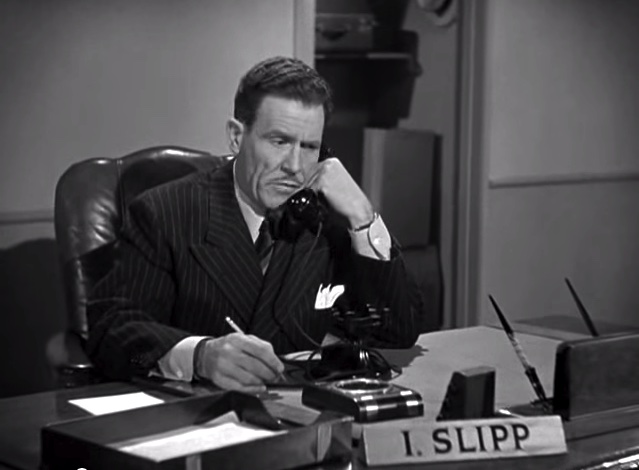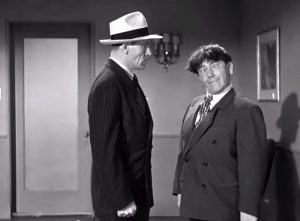 The action then moves to the office of I. Slipp, played by recurring Three Stooges supporting actor Kenneth MacDonald, a crooked individual who's planning on skipping town with the Stooges' money. He hears them outside his office planning to subpoena him, and after the Stooges have separated, he has an inspiration. He assaults the Three Stooges one at a time, pretending that he's an embezzled investor who's confronting "Mr. Slipp" in his office. Giving him an excuse to beat each of them up and then take away and destroy their subpoenas. It's a funny bit, and my favorite scene from this short film.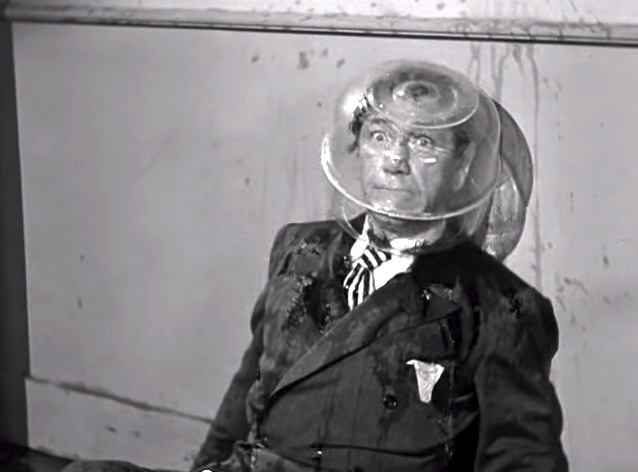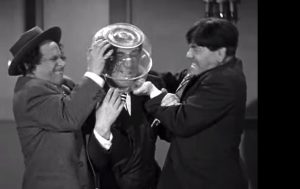 After I. Slipp escapes, the Three Stooges recover, and in the process of trying to find something to break the water bowl off Shemp's head (did I mention it was a slapstick fight sequence?) Larry finds an election poster for "honest" Ichabod Slipp, and they realize that they've been beaten up by the man they were pursuing. And they also find Slipp's train itinerary, and are soon in hot pursuit. After hitting Shemp over the head to free him from the water bowl, and end up having to carry him out of the office.
On the train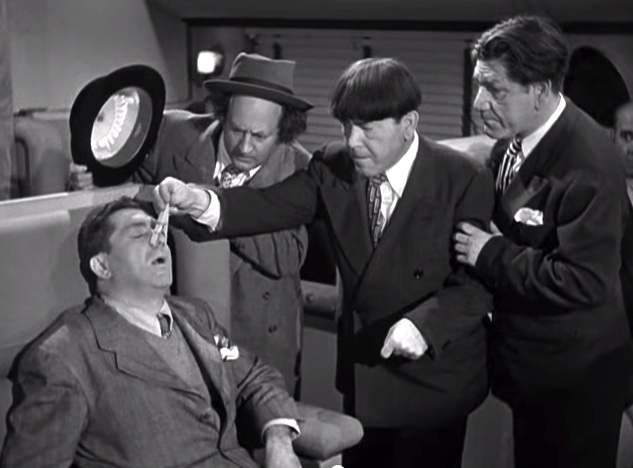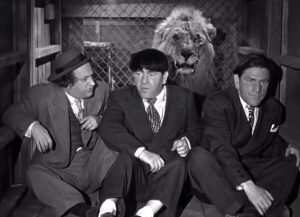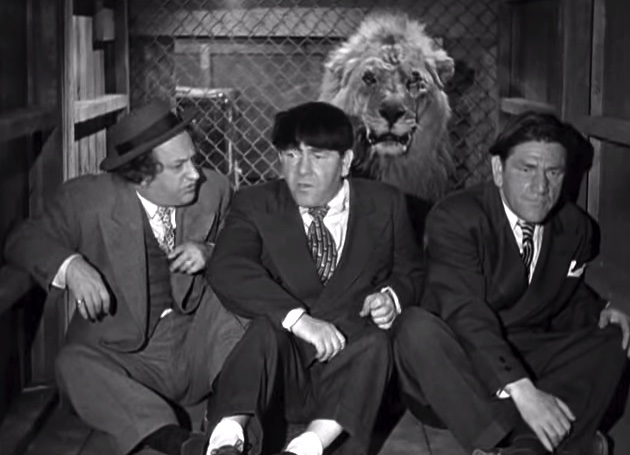 Once on the train, they begin looking for Slipp; this is where they lift the hat off the face of a snoring man, to see a sleeping Curly (with a clothespin on his nose and a full head of hair), try to pull the "fake" beard off another passenger, etc. Slipp is indeed on the train, and eludes the Stooges for a while. Which is easier since they don't have any tickets, and need to avoid the porter. Accordingly, at one point they're hiding out in the baggage car, where they meet a lion being transported in a cage (hence the title Hold That Lion). Naturally enough, the lion is soon out of the cage, ripping the pants of porter Dudley Dickerson ("Help! I'm losing my mind!"), licking Moe's feet as he sleeps, etc.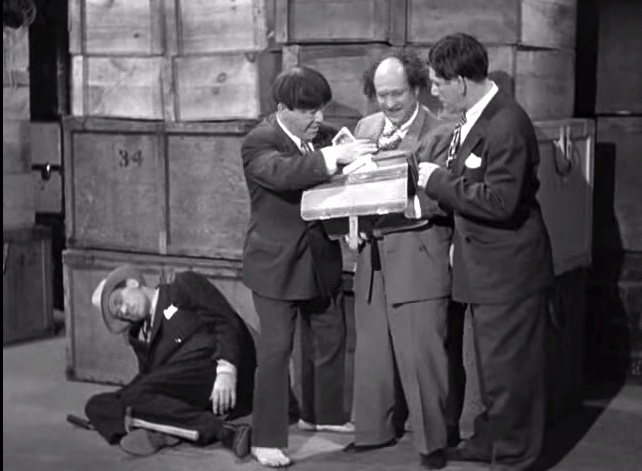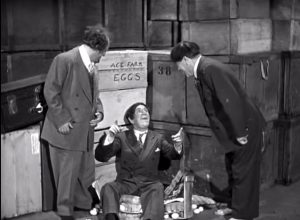 The short ends as Slipp is again eluding and/or defeating the Three Stooges, only to have Moe accidentally knock him unconscious by absent-mindedly throwing a hammer away. Soon the Stooges have recovered their money, and the short film ends with Shemp having an egg fight with Moe and Larry.
Hold That Lion is a funny Three Stooges short film that I enjoyed, and hope that you do as well. It's available on DVD as part of The Three Stooges Collection volume 5.
Funny movie quotes from Hold That Lion
sign: Cess, Pool & Drayne – Attorneys at Law
---
Shemp (Shemp Howard): Don't rush me; Rome wasn't built in a day, and neither was Syracuse
---
Larry (Larry Fine): My right palm itches, what's that a sign of?
Moe (Moe Howard): You're hand's dirty.
---
Shemp (Shemp Howard): I can't see without my glasses.
Moe (Moe Howard): Oh, no? [puts glasses on Shemp] Can you see now?
Shemp (Shemp Howard): Yeah.
Moe (Moe Howard): [holds up 2 fingers] What's this?
Shemp (Shemp Howard): Two dirty fingers.
[pokes him in the eyes]
---
sign: Slipp, Tripp & Skipp – Investment Brokers
---
Shemp, Larry, Moe (Moe Howard): We'll get the filthy moocher, The Moola, the Geidas, No Slippery guy named Slipp, Is ever gonna cheat-us, A-zee, a-zie, a-zoh!
---
Shemp (Shemp Howard): [with a fish bowl on his head, he mumbles inaudibly]
Moe (Moe Howard): What did he say?
Larry (Larry Fine): [mimics inaudible mumbling]
Moe (Moe Howard): [smacks Larry] Get out of here!
---
Moe (Moe Howard): Say, what's another word for "scrutiny"?
Shemp (Shemp Howard): Scrutiny.
---
Larry (Larry Fine): I smell somethin' awful.
Moe (Moe Howard): You telling me? Why don'tcha use cologne?
---
Pullman porter (Dudley Dickerson): [as lion claws his backside] Help! Help! I'm losin' mah mind!
Trivia for Hold That Lion
The only short of The Three Stooges to feature all three Howard brothers – Moe Howard, Curly Howard, and Shemp Howard – together. However, they did appear in the 1930 Ted Healy Stooge movie, Soup to Nuts (1930).
This was the 100th short The Three Stooges made with Columbia.
Curly Howard had suffered a series of strokes in 1945 that forced him to leave the team. His cameo (as the man asleep on the train – with long hair and a clothespin on his nose) was intended by brother Moe Howard as a morale booster, but Curly never made another movie.
In one scene, The Three Stooges are sitting in front of a lion. If looked at closely, it can be noticed that there is a glare behind them. There was a sheet of glass put up between them and the lion for the scene's shooting. Even though the lion was old, docile, and tame, Shemp Howard panicked and refused to do the scene. As a result, the glass was put up to separate them from the lion.
Cast of characters
Additional Cast