The Three Stooges Collection, Volume 5: 1946-1948 starring Moe Howard, Larry Fine, Curly Howard, Shemp Howard
 The Three Stooges Collection, Volume 5 is a bittersweet collection of the slapstick comedy that is the Three Stooges.  It contains Curly Howard's final 10 short films, before a stroke forced him to retire from films.  His older brother, Shemp, who had originally been one of the Stooges during their vaudeville days. They made their first feature film,Soup to Nuts, as part of the Three Stooges act during their time with Ted Healy. He returned to the group to fill in until Curly was healthy enough to rejoin the act. Which, sadly, never happened.
Not everyone is a fan of Shemp. But I've always respected his strength in being his own man, and not attempting to fill the shoes of his youngest brother. In addition, he made many truly humorous films — with W. C. Fields, with Abbott and Costello, and here with the Three Stooges. Brideless Groom is a personal favorite. As is Sing a Song of Six Pants, both remastered and included in this collection.
Contents of The Three Stooges Collection volume 5
1946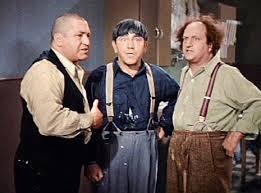 The first Three Stooges short film by Curly after his stroke. Resulting in the re-use of film from the earlier So Long, Mr. Chumps, The Sweet Pie and Pie
Moe, Larry, and Curly are inept paperhangers. While running away from a dissatisfied customer, they run into the arms of Professor Panzer. He's a mad scientist played by Three Stooges regular Vernon Dent. The mad scientist wants to transplant a human brain into his gorilla, Igor. And Curly's tiny brain is just right! However, the Stooges (and Igor) have other ideas!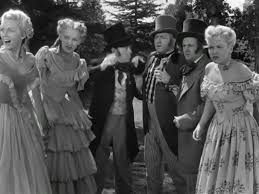 As Civil War breaks out, the Three Stooges decide to join the army. But the battle lines are redrawn when Moe and Larry join the Union and Curly enlists with the Confederates.
Moe, Larry, and Shemp are the unlikely new sheriffs who have to rescue Christine McIntyre and her father. And Curly almost gets to marry Christine!
The Three Stooges (Moe, Larry, Curly) take a rest at Kenneth MacDonald's crooked rest home after failing as electricians
The Three Stooges (Moe, Larry, Curly) inherit a pawn shop. Soon have to contend with loan sharks – and an abandoned baby!
When Moe, Larry and Curly are discharged, they go from bunkers to bunk beds upon learning that they now have no home and there are no vacancies to be had anywhere. With their fiancees, they move into a vacant lot and make the most of it, until a farmer forces them to move on.
the Three Stooges are about to commit suicide after being repeated failures as comedy actors. They go to the rooftop of a building to leap off … Only to find three beautiful women, failed dancers, about to do the same thing. Whom the Stooges immediately fall in love with, and they all decide to live! And then they're "discovered" by a rich Broadway producer, and all seems well …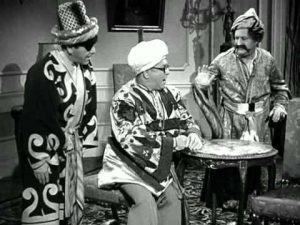 In order to walk the plank to freedom, the shipwrecked Stooges must escape from the governor of Dead Man's Island and survive Black Louie's Pirate Den.
1947
Curly's last Three Stooges short film, and ironically "fourth" Stooge Emil Sitka's first. A remake of Hoi Polloi with a pie fight instead of a slap fight at the end. Curly is absent in the final 5 minutes or so of the film, having suffered a major stroke while sitting off camera waiting for his next scene.
Classic Three Stooges short where Moe, Larry, and Shemp are trying to train their prize fighter amidst temptation, cream puffs and crooks
Shemp Howard leg's enlarged vein is mistaken for a vein of gold …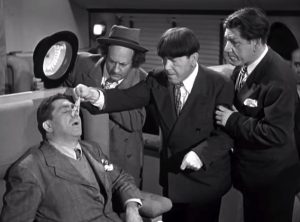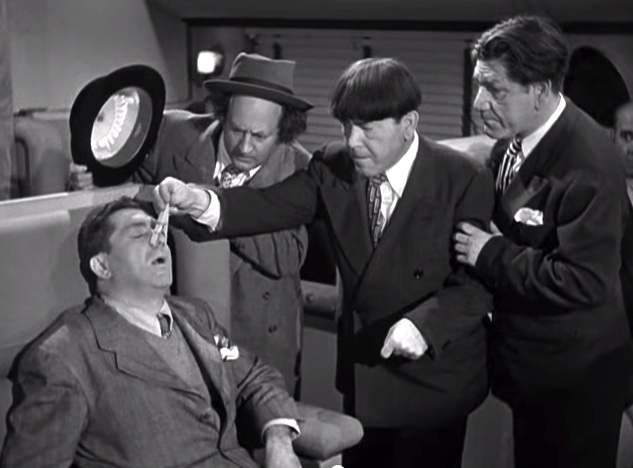 The only Shemp film to feature a cameo by Curly – with a full head of hair!
Three Stooges short where Shemp must marry to inherit a fortune, where Emil Sitka uttered his famous line Hold hands you lovebirds
Moe, Larry, and Shemp's tailor shop is in financial trouble. And robber Terry Hardigan won't make it any better. Will he?
the Three Stooges (Moe, Larry, Shemp) are inept druggists, who somehow create a potion of youth, with Christine McIntyre – and Emil Sitka
1948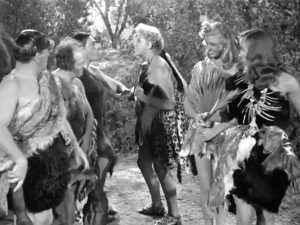 Cave man Stooges Moe, Larry, and Shemp fight for true love — and survival! Especially when their girlfriends' jealous boyfriends show up!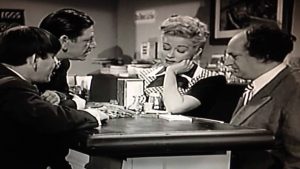 Moe, Larry and Shemp nearly drive Christine McIntyre's diner to bankruptcy, so the Stooges work there to pay their debt – and witness a bank robbery! Soon they encounter the robbers in a haunted house, and the chase is on!
Moe and Larry wake up Shemp to take a sleeping pill, pull his tooth, buy a car, get swindled, and get out of it!
The Three Stooges (Moe, Larry, Shemp) are troubadours who decide to help their friend Cedric the Blacksmith (Jock Mahoney) win the hand of the fair princess Elaine (Christine McIntyre).
The Three Stooges are Old King Cole's fiddlers, who come to the rescue when the King's daughter is kidnapped by the evil magician Murgittroyd
The Three Stooges guard a Scottish castle … Can they find the crooks who've been robbing the Earl? Who are the spooks?
one of the best of Shemp Howard's Three Stooges short films, where a ghostly Shemp tries to guide Moe and Larry to the right
The Stooges as dishonest used chariot salesmen in ancient Egypt, who "help out" king Vernon Dent
A classic Three Stooges short, where Moe, Larry and Shemp are on the trail of a stolen diamond – until Shemp swallows it!
Product Description of The Three Stooges Collection, Volume 5
This fifth collection of The Three Stooges, which features 25 digitally remastered shorts from 1946-1948, marks the end of Curly's career with the Stooges and the return of original Stooge Shemp. Curly suffered a stroke on the final day of filming Half-Wits Holiday and retired at age 43. Moe realized there was only one person who could fill baby brother Curly's shoes: his older brother Shemp (who, ironically, Curly had replaced in 1932).
The Three Stooges were born in 1925 when Moe and Shemp met Larry Fine. But the 1930's Shemp left to pursue a film career in Hollywood. By the time Moe called in 1946, he was starring in films with the likes of W.C. Fields, John Wayne and Abbott and Costello. But he accepted Moe's offer, and the original Three Stooges reunited. Shemp's first short upon his return was Fright Night. And Curly did recover enough to make an appearance in Hold that Lion, but his health continued to deteriorate and he unfortunately passed away in 1952 at age 48. The Three Stooges Collection Volume 5 is bittersweet for the change but filled with more fun than ever – and the added bonus of not only Larry, Moe and Curly, but Shemp too!