A collection of posters of the Three Stooges – Moe Howard, Larry Fine, Curly Howard, Shemp Howard, Joe Besser and Joe DeRita. You may also be interested in photographs of the Three Stooges.The Three Stooges golfing poster, from their short film, Three Little Beers. It's surprising how popular this is, given that the Three Stooges only played golf once in all of their films
---
Another golf poster from the Three Stooges short film, Three Little Beers – "Play Golf with the Stooges – it's going to take a lotta balls!"
---
Another golf poster starring Moe, Larry and Curly from their short film, Three Little Beers – "Golf Masters Instructional Academy – our 'fore' fathers – Turn your bogies into 'boidies'"
---
An illustrated poster of famous Hollywood actors (John Wayne, James Dean, Marilyn Monroe, Humphrey Bogart and, of course the Three Stooges – Moe Howard, Larry Fine, Curly Howard) golfing together, titled "Putting for Birdie"
---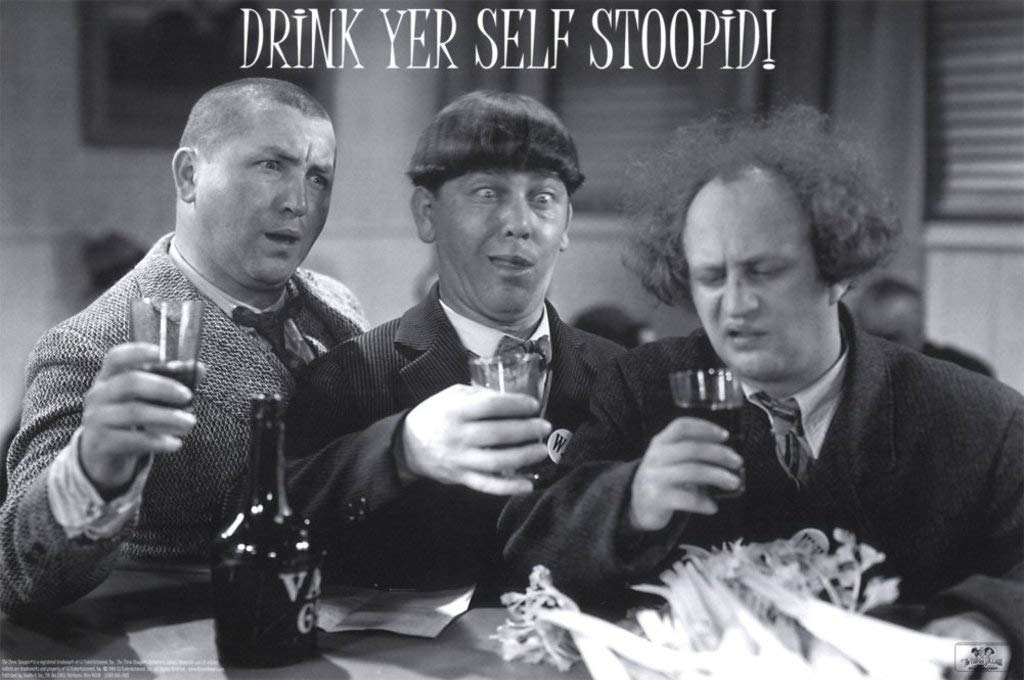 A poster of the Three Stooges (Moe Howard, Larry Fine, Curly Howard) drinking, with the title of "Drink Yerself Stoopid" – I'm not certain which short film this is taken from, since drinking was done in so many.
---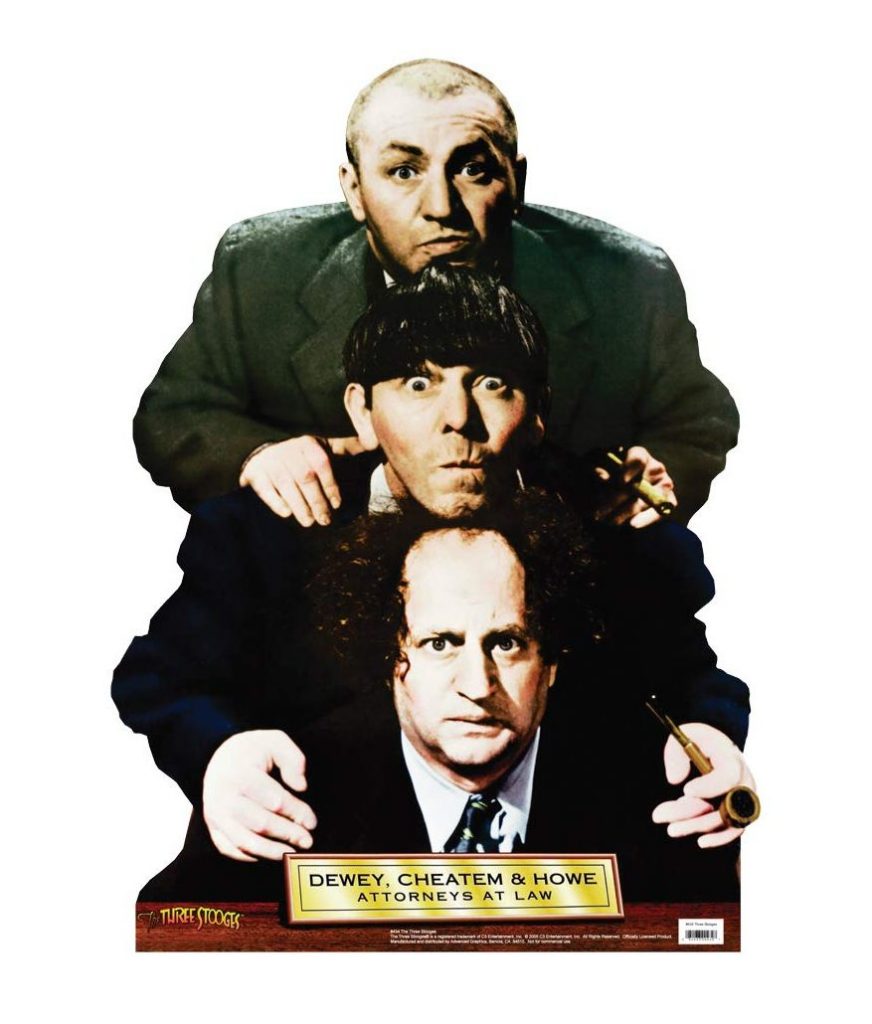 A poster to warm the hearts of lawyers and Three Stooges fans everywhere – a tribute to the law firm of Dewey, Cheatem, & Howe
---
In a final tribute to lawyers, the Three Stooges open their own law firm — I love how they specialize in "personal injury" — after all, who knows more about the topic?
---
Poster for the "Three Stooges Institute of Higher Learnin' — Every thing I know I learned from the Three Stooges" – taken from their famous short film Violent is the Word for Curly, where they sing "Swinging the Alphabet" (b-a-bey song)
---
Poster featuring scenes from the Three Stooges short film, Three Little Pigskins, where the Stooges play college football. This is the short film where Lucille Ball has a minor role.
---
Publicity photograph from the famous anti-Nazi Three Stooges short film, You Nazty Spy! Notable as the first anti-Nazi film (beating Charlie Chaplin's classic The Great Dictator by several months).
---
Curly Howard graces a license plate with one of his iconic phrases – Soitenly!
---
Three Stooges card game poster, colorized.
---
The Three Stooges (Moe Howard, Larry Fine, Curly Howard) portraying fire fighters in their short film, False Alarms. The caption reads, "When disaster strikes, don't send a Stooge … send Three!"
---
A poster of the original Third Stooge, Shemp Howard. Many people don't realize that Shemp predated Curly as the third stooge, both in their vaudeville days and in their early film career (when the trio appeared with comedian Ted Healy as Ted Healy and his Stooges), in addition to stepping in after Curly retired due to Curly's debilitating stroke. Shemp is the only Stooge to have a successful film career away from the Stooges, having appeared in a number of films with Abbott and Costello, W.C. Fields, as well in numerous short films and the Joe Palooka boxing films.
---