Biography of Moe Howard (June 19, 1897 – May 4, 1975)
Moe Howard's early years
Harry Moses Horwitz, better known as Moe Howard, was born on June 19, 1897. He was born in Bensonhurst, New York, a small Jewish community on the outskirts of Brooklyn. He was the fourth of five children. Although his parents were not involved in show business, Moe, his older brother Samuel (Shemp) and younger brother Jerome (Curly) all became world famous as part of the Three Stooges.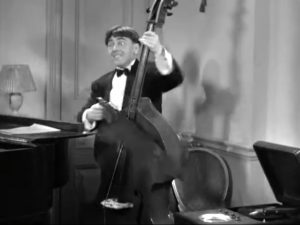 In school, Moe originally did quite well, aided by a prolific memory, able to quickly memorize anything. In later years, this helped him in his acting career, making memorizing his lines quick and easy. Moe loved reading, as his older brother Jack commented:
" I had many Horatio Alger books and it was Moe's greatest pleasure to read them. They started his imaginative mind working and gave him ideas by the dozen. I think they were instrumental in putting thoughts into his head-to become a person of good character and to become successful."
Moe's largest problem, in his early years, was undoubtedly his hair. Although his "bowl-cut" hair cut is now world famous, as a child his mother refused to cut his beautiful hair. She let it grow to shoulder length. One day, he couldn't take his classmates' teasing any longer, and snuck off to a shed in their backyard. With the help of a friend and a mixing bowl, cut his hair. The hair style stayed with him for the rest of his life.
Moe Howard and show business
However, the allure of the stage started calling him. And the more he followed it, the worse he began doing in school. He began playing hooky from school in order to attend theater shows. Moe said,
"I used to stand outside the theater knowing the truant officer was looking for me. I would stand there 'til someone came along and then ask them to buy my ticket. It was necessary for an adult to accompany a juvenile into the theatre. When I succeeded I'd give him my ten cents-that's all it cost-and I'd go up to the top of the balcony where I'd put my chin on the rail and watch, spellbound, from the first act to the last. I would usually select the actor I liked the most and follow his performance throughout the play"
Despite his decreasing attendance, Moe graduated from P.S. 163 in Brooklyn, but dropped out of Erasmus High School after only two months, the end of his formal education. To please his parent, he took a class in electric shop. But he dropped out after a few months to pursue a career in show business.
He began by running errands for no fee at the Vitagraph Studios in Brooklyn. His reward was bit parts in movies being made there. Unfortunately, a fire at the studios in 1910 destroyed copies of most of Moe's work done there. In 1909 he met a young man named Ted Healy, who would later become a major milestone in his life. For the time, though, Moe and Ted became good friends. In 1912, they both held a summer job working in Annette Kellerman's aquatic act as diving "girls."
Moe continued his attempts at gaining show business experience, by singing in a bar with his older brother Shemp (until their father put a stop to it). Then in 1914 joining a performing troupe on a showboat for the next two summers. In 1922, he joined Ted Healy in a vaudeville routine, Ted Healy and his Racketeers. The group later changed its' name to Ted Healy and his Stooges.
On June 7, 1925, Moe Howard married Helen Schonberger, a cousin of the late Harry Houdini. And they truly lived happily ever after until his dying day. The next year, Helen pressured Moe to leave the stage, as she was pregnant and wanted Moe nearer to home. Moe attempted to earn a living in a succession of "normal" jobs, none of which were successful. He returned to working with Ted Healy afterward.
Moe Howard joins Ted Healy and his Stooges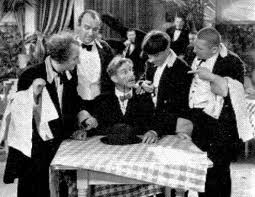 By 1930, Ted Healy and his Stooges were on the verge of "the big time". They made their first movie, "Soup to Nuts" – featuring Ted Healy, and his four stooges – Moe Howard, Larry Fine, Shemp Howard, and Fred Sanborn. Shemp had not seen eye-to-eye with Healy, and left the group shortly after filming. He pursued an individual film career. Moe brought in his baby brother, Jerome ("Jerry" to his friends, "Babe" to Moe) as a replacement. After Healy had him shave off his mustache and hair, he took the stage name of "Curly". In 1934, Ted Healy and his Stooges separated, with Healy pursuing his own career. The Three Stooges (Fred Sanborn having previously left) began making short films at the Columbia film studio, where they stayed until 1957, making 190 films.
With Healy's departure, Moe's character assumed the role of the aggressive, take-charge leader of the Three Stooges, short tempered and prone to slapstick violence against the other two stooges. In many ways, this was the antithesis of Moe Howard's true self; he was quiet, loving, and generous to his friends and family. In fact, he was one of those men who had problems showing affection — instead, he would shower his loved ones with gifts, increasing in quantity and expensiveness over time as his fortunes improved. He was also foresighted, and invested the money made from his film career very wisely, allowing him to retire in luxury.
Moe Howard and the Three Stooges – an era of short films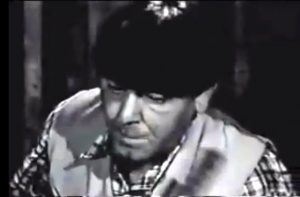 In 1934, they released their first Three Stooges, movie, "Woman Haters," where their characters where not quite finalized. This was changed by their next film, "Punch Drunk," the only short film that was written entirely by the Three Stooges. Their next short, Men in Black, was their first and only film to be nominated for an academy award (with the classic "Calling Dr. Howard, Dr. Fine, Dr. Howard" ). They continued making short films at a record pace, such as "Three Little Pigskins" (with a very young Lucille Ball), "Pop Goes the Easel," "Hoi Polloi" (where two professors try to solve a bet by turning the Three Stooges into gentlemen), and many others.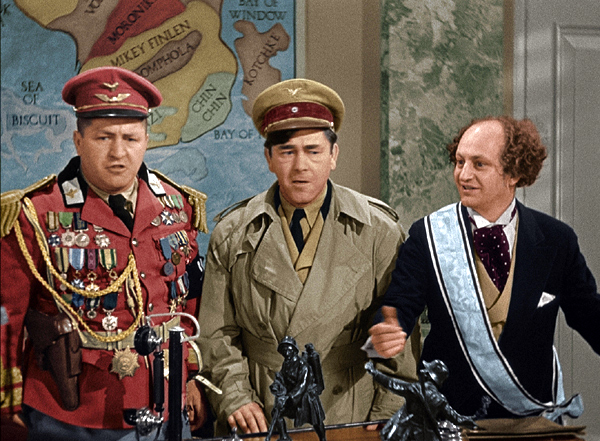 In the 1940's, the Three Stooges become slightly political, making several anti-Nazi movies, including "You Nazty Spy," (Moe's favorite Three Stooges film), "I'll Never Heil Again," and "They Stooge to Conga." Moe did a good imitation of Hitler in all three movies, which were unusual in their political commentary, although hilarious as well. It should also be noted that all Three Stooges were Jewish, mocking the anti-Jewish Nazi party.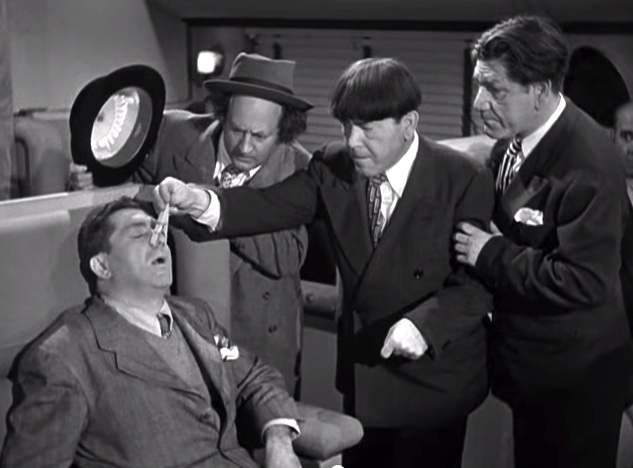 By the end of World War II, Moe's brother Jerome (Curly) had been diagnosed as having extreme hypertension, a retinal hemorrhage and obesity. The next year, he suffered a massive stroke during the filming of "Half-Wits Holiday;" although Moe made certain that his baby brother (Moe's nickname for Jerome was always "Babe" ) received the best medical care, he had him replaced in the Three Stooges by Shemp, who returned to the group until Curly was well enough to rejoin the Stooges. Although he had recovered enough to appear in "Hold that Lion" in a cameo appearance (the only Three Stooges short film to contain, Moe, Larry Curly and Shemp), he suffered a series of strokes, leading to his early death in 1952.
Moe Howard and the Three Stooges in feature films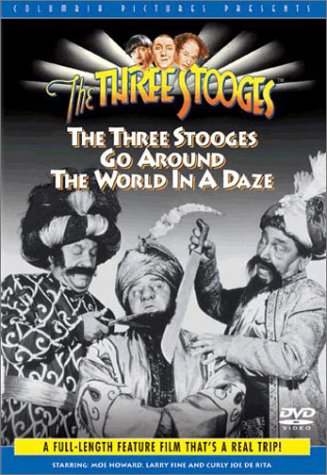 The Three Stooges continued to make short films for Columbia into the 1950's — the era of television. In 1955, Moe's brother Shemp died of a heart attack, necessitating the need for another stooge. Existing footage enabled the Three Stooges to finish the films that they had been working on until Moe hired Joe Besser, who worked with Moe and Larry making shorts until 1959.
The making of shorts had come to an end, but with Columbia's sale of the library of short films to television, the Three Stooges quickly gained a new audience of young fans, prompting Columbia to star them in several feature-length movies – Have Rocket, Will Travel (1959), "Snow White and the Three Stooges (1961)," "The Three Stooges Meet Hercules (1962)," "The Three Stooges In Orbit (1962)," "The Three Stooges Go Around the World in a Daze (1963)," "The Outlaws Is Coming (1965)" — all with a new third stooge replacing Joe Besser, "Curly Joe" DeRita.
Moe, Larry and Curly Joe continued, making live appearances, many notable "guest appearances" (notably in "It's a Mad Mad Mad Mad World" and "4 for Texas" ) and even a children's cartoon show, with the cartoons sandwiched between live action Three Stooges — but they were not immune to age, and they were simply getting too old to do slapstick comedy.
Moe Howard's latter days
Moe's professional life slowed down dramatically, although he still did minor roles and walk-on bits ("Don't Worry, We'll Think of a Title", "Dr. Death: Seeker of Souls" ), television appearances ("Here's Hollywood", "Toast of the Town", "Masquerade Party" ) and did his final Three Stooges film – "Kook's Tour", essentially an early "reality TV" show of Moe, Larry and Curly Joe, out of character, touring the country and interacting with fans.
Moe Howard died of lung cancer on May 4, 1975 in Los Angeles, California, USA. His remains are interred at Hillside Memorial Park, Culver City, California
The Three Stooges have a star on the Hollywood Walk of Fame for their contributions to Motion Pictures at 1560 Vine Street in Hollywood.
Quotes from Moe Howard
"You're a smart imbecile!"
"Hey Porcupine!" (Moe, to Larry)
"I'll moider you!"
"Hey knucklehead! Wake up and go to sleep!"
"Spread out!"
"Quiet numbskulls I'm broadcasting."