The Three Stooges (Moe, Larry and Curly) are clearly in their prime, and it shows in this collection, with some of their best short films.
1943
The Three Stooges Collection volume 4 (1943-1945)
Moe, Larry, and Curly are inept repairmen who are hired to fix a doorbell. Unknown to them, the house is secretly full of Nazi agents!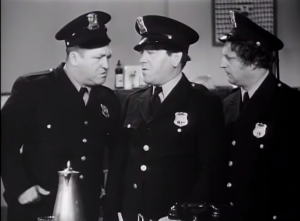 The Three Stooges are carpenters who become policemen. A mysterious burglar disguised as a gorilla has the cops baffled and Mr. Dill, the head of the citizens league, threatening the police chief's job. The boys go on the case and pose as night watchmen at an antiques store. They confront the crook, who turns out to be a real gorilla owned by Dill. After defeating Dill and some other bad guys in a wild fight, the gorilla drinks some nitroglycerin and blows up.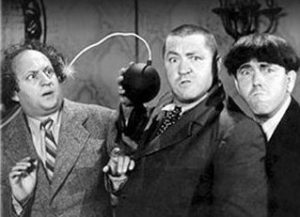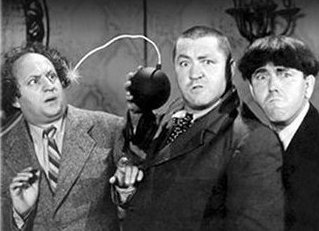 The Three Stooges are hired as caretakers by an eccentric inventor while the inventor leaves to demonstrate his death-ray invention in Washington. Moe, Larry and Curly then have to deal with enemy spies (disguised as ghosts) and a mysterious pie-thrower.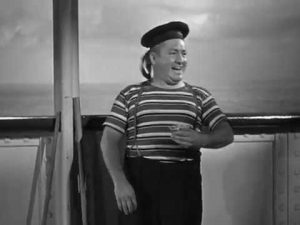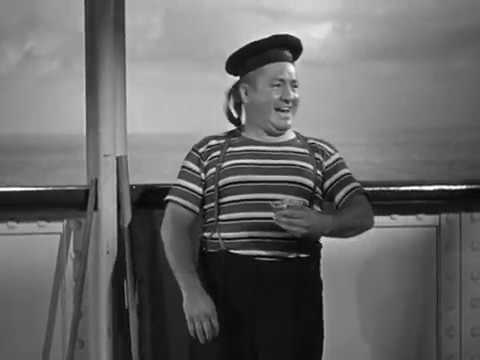 After merchant mariners Moe, Larry and Curly mistake a torpedo for a whale and accidentally cause it to explode, they find themselves cast away at sea in a lifeboat… Until they board a Nazi warship and make an even bigger mistake.
The Three Stooges have a job putting up posters for the circus, but thoroughly bungle the job. They then discover that they get paid in circus tickets, not cash. At the circus, Curly accidentally finds a long string of tickets, and the boys try to scalp them. They're chased by the cops and dragged before the circus owner, who's mad at them for ruining his posters. Instead of sending them to jail, he offers them a job at the circus. As targets for the Mad Sultan of Abadabba, the spear thrower!
Higher Than A Kite
The Stooges enter Generaal Bommer's headquarters and wreck Nazi plans. With Dick Curtis, Vernon Dent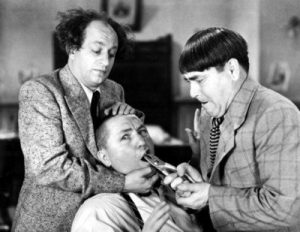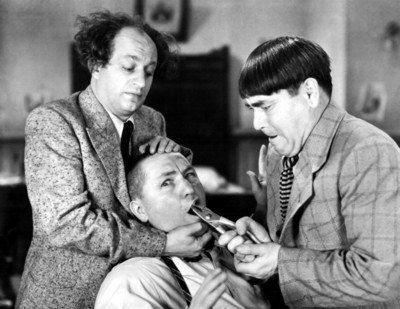 After breaking Curly's tooth, Moe and Larry try to pull the broken tooth — and fail, over and over…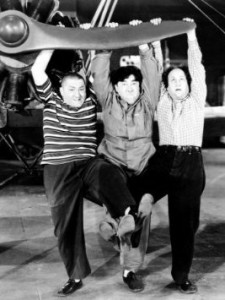 It seems nothing goes right when Moe, Larry and Curly attempt to prove to the military that they can fly their airplane, the Buzzard. But it's not only their egos that are inflated, and Moe appears headed for a crash landing.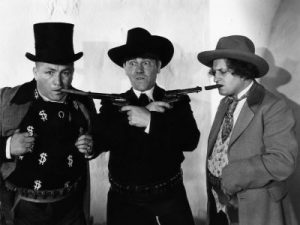 In Phony Express, the Three Stooges (Moe, Larry and Curly) are vagrants in the Old West. They're mistaken for lawmen, who have to guard the bank … And once they fail at that, they have to capture the bandits and recover the gold … or else!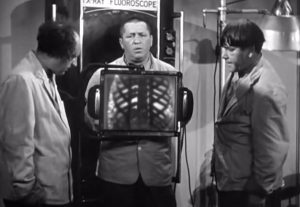 The Stooges are forced at gunpoint to "operate" on an injured robber. And then avoid his angry friends after they drop him out a window!
1944
The Three Stooges are mistaken for reporters, and offered $100.00 for photographs of Prince Shaam of Ubeedarn. So Moe, Larry and Curly pose as servants and infiltrate the home of the widowed socialite that the prince is going to marry. The typical kitchen mayhem ensues (re-using several ideas from earlier Stooge shorts, such as having a bird flying into a cooked turkey so that it moves around). Thankfully, the boys uncover the Prince as an impostor, rescuing the socialite from being robbed.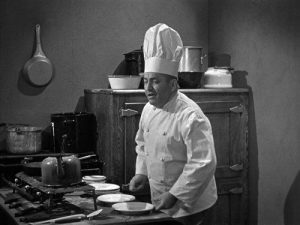 The Three Stooges are inept restaurant workers, who need to raise 97 dollars by Monday. So Moe decides that Curly will win a cow-milking contest – even though he's never seen a cow!
The Yoke's on Me is a very difficult Three Stooges short film to review because it deals with the issue of racism — and not in a good way. In The Yoke's on Me, the villains are Japanese Americans who have escaped from an American internment camp …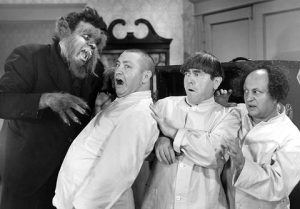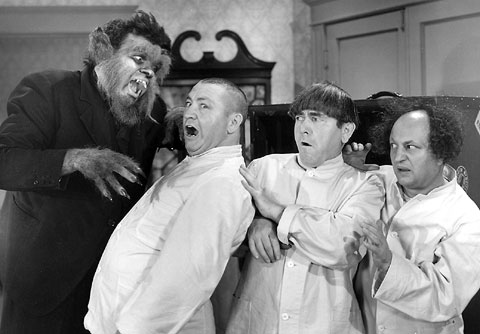 The Three Stooges are bellhops in a hotel, who get in trouble with knife-throwing Vernon Dent and Christine McIntyre. But the fur really starts to fly when they let Lupe the Wolf Man out!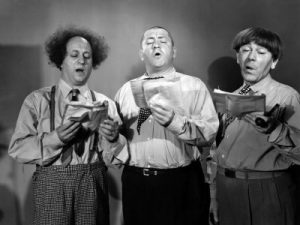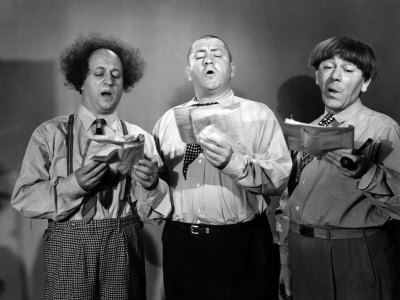 Moe, Larry and Curly are small-time actors. They join with three girl dancers and get small parts in a large production …. When the other actors don't show up, it's the Stooges chance to put on the entire show. Best known for the Three Stooges classic performance of the classic vaudeville skit, "Niagara Falls". Also known as "Slowly I turned"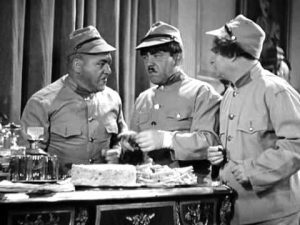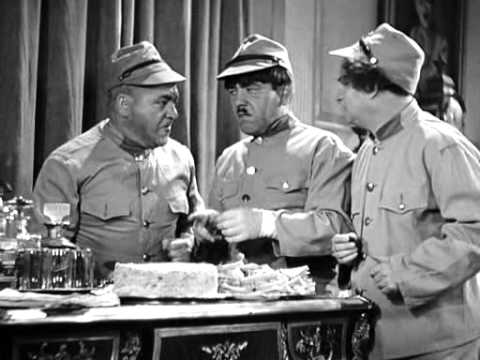 Mistaken for Japanese saboteurs after posing makeup up to look like Japanese soldiers for a magazine ad. Moe, Larry and Curly decide to stay undercover and fight the high-ranking German spies into whose hideout they've stumbled.
1945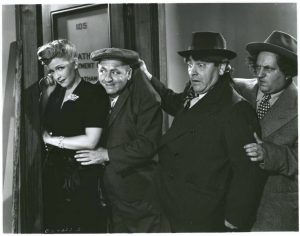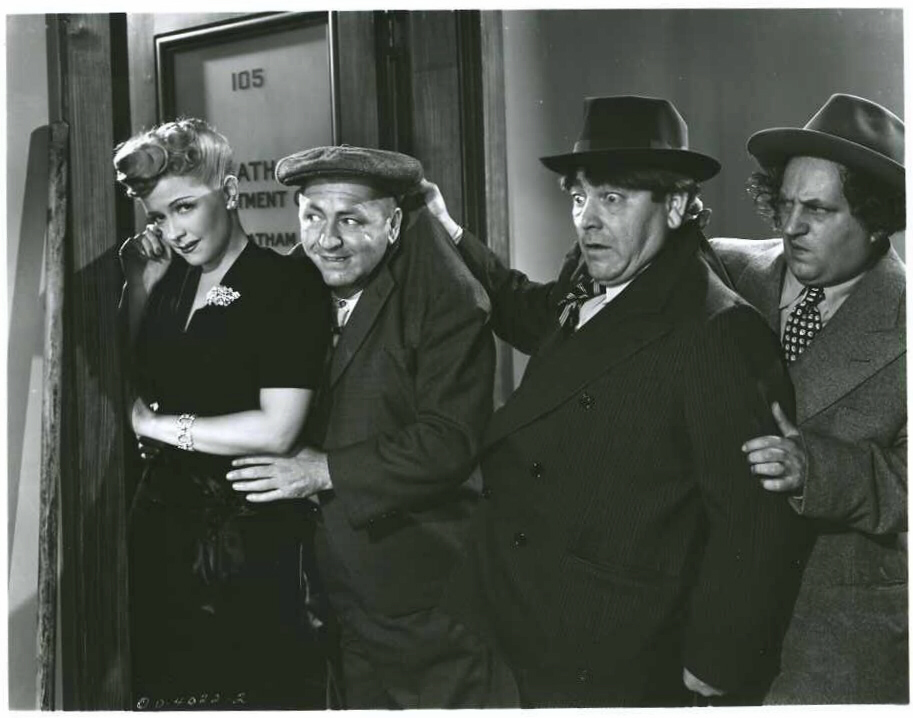 The Three Stooges go from being failed inventors to being on the run from crooks, to hiding out in a cemetary … and getting spooked!
The Three Stooges are selling fish, and in an effort to do better they decide to cut out the middleman and buy a boat in order to catch their own fish. The boat is a floating junk heap, that is soon sinking, with Curly's help. Things are not helped when the Stooges find a white flag with a big red dot in the middle, which they start waving in order to attract help — but ends with the U.S. military bombing them, seeing them waving a Japanese flag (this short took place during World War II).
Moe is on trial for attempted murder — of Larry and Curly! As Moe tells his story in flashback, who can blame him?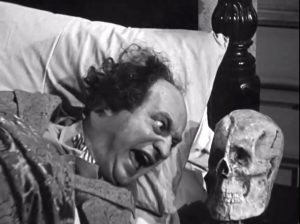 Curly is named in the will of his rich uncle, but when Moe, Larry and Curly show up at his uncle's mansion, it turns out that his uncle was murdered — and the police detective is keeping all of the relatives there until the mystery is solved! After having to stay in the room where Curly's uncle was murdered, odd things happen – the dead body keeps appearing and reapearring, a parrot walks into a skull and flies around the room, but eventually everything is resolved, except for how much money Curly will inherit.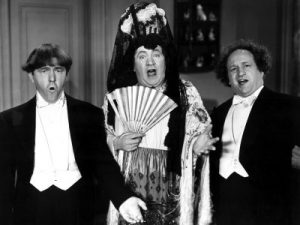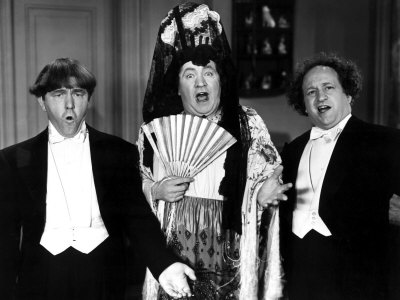 The Three Stooges are working in a radio station where a pretty girl has just made a recording of Voices of Spring under an assumed name. She wants to hide her aspiring singing career from her disapproving society parents while auditioning for Mrs. Bixby's radio program. After a run-in with a pompous violinist, the boys find the record and Curly starts mimicking to it, dressed as a woman. Mrs. Bixby witnesses their performance and is impressed enough to hire "Senorita Cucaracha" (Curly) and Senor Mucho (Moe) and Senor Gusto (Larry) for her radio program. The boys show up in their disguises to "sing" at a Mrs. Bixbys party but run into trouble when Moe smashes the record over Curly's head.