The Three Stooges Collection volume three – All of the Three Stooges short films from 1940 to 1942, digitally remastered, containing some of Curly's best moments!
The Three Stooges Collection volume three (1940-1942)
A wonderful collection of all of the Three Stooges short films from 1940 through 1942. Starring Moe Howard, Larry Fine, and Curly Howard
Order The Three Stooges Collection, Vol. 3: 1940-1942 from Amazon.com
1940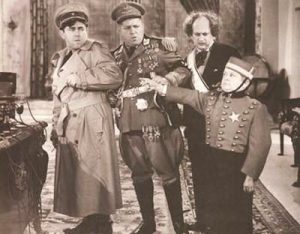 The Three Stooges in the first anti-Nazi parody. Moe plays the Dictator Hailstone, with help from Larry and Curly – can the beautiful spy Mata Herring stop them?
The Three Stooges are inept trail guides. They try to get a troupe of female entertainers through the American wilderness … Unti lIndians kidnap the girls!
The Three Stooges as inept plumbers. One of their funniest short films, with Curly trapping himself in a prison of pipes.
The Three Stooges are singing comedy waiters when Dr. Vernon Dent sends them to cheer up a child patient – and they head off to rescue the child's kidnapped father
The Stooges working construction on the tallest skyscraper – "red hot rivet!"
The Stooges' friend Jerry tries to get them to commit insurance fraud. They pretend that Curly thinks that he's a dog … But Dr. Vernon Dent wants to operate!
The Stooges go from being on the run to census workers who "help" at a society party. It ends with them "infiltrating" a college football game!
The Three Stooges (Moe, Larry, Curly) go from inept fish vendors to inept beauty salon owners. And they ruin the hair of 4 beautiful señorirtas! And then run for their lives!
The Stooges are on the run from a jealous husband and unintentionally join the Army. And their sergeant is none other than that jealous husband!
1941
The Three Stooges are hired to find an honest man. And they end up looking for him in prison, and try to paint their way out in a prison break!
The Three Stooges are photographers for Whack magazine ("If it's a good picture it's out of Whack"). But they mess up the assignment of taking photos of a movie star and his new bride. As "reward," their editor sends them to the country of Vulgaria to get a photograph of the Vulgarians' death ray. But the Vulgarian police catch the Stooges and sentence them to the firing squad. For Curly's last request? A giant cigar, in order to out-last the firing squad.
All the World's a Stooge – in order to escape the police the Three Stooges pose as child "refugees". And drive their new family crazy!
A sequel to You Nazty Spy!, where the Three Stooges reprise their roles as Moe Hailstone, Dictator of Moronica and his "stooges". Where they poke more fun at the Nazi party and the Axis powers in one of their best short film. It's a nonstop laugh fest that I highly recommend
The Three Stooges are inept ice deliverymen, who keep ruining Vernon Dent's birthday cake. And that's before his wife hires them as cook and butlers!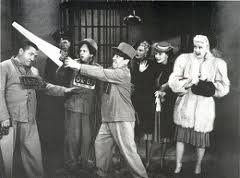 One of the Three Stooges best short films. Three lovely young ladies need to get married in order to collect their inheritance. So they marry three death row inmates (Moe, Larry and Curly – imprisoned for a crime they didn't commit).  But the Stooges are released at the last moment! And their new brides determine to find a cause for divorce, So the brides throw a large society party. This leads to one of the best pie fights ever filmed!
Tree surgeons Moe, Larry, and Curly go to help a cranky millionaire with his sickly tree. And so they're off to the island of Rhum-Boogie to find its mate! But the natives are restless …
1942
Moe, Larry, and Curly abandon a scheme to defraud a hotel, once they realize the little old lady who owns it is in trouble. And after some disastrous remodeling, they try to entertain the guests and are failing …. Until Curly puts on magician Vernon Dent's coat by mistake!
A Western short film starring the Three Stooges.  After a hilarious "morning routine", the Stooges' mother throws them out of the house to make their way in the world.  The Three Stooges use Curly's invention, a gold collar-button finder, to become prospectors …. After they're swindled into buying a worthless gold mine.  They actually succeed, only to have to hide from claim jumpers. This leads to a hilarious scene with the boys hiding in a ghost town hotel …. With Moe, Larry, Curly and a lit stick of dynamite!
The Stooges take their fake bull-fighting act to Mexico. But they irritate a jealous husband, who makes sure that Curly's facing a live bull in the arena!
Set in ancient Rome, the Stooges are used chariot dealers. They have to rescue a beautiful young maiden from Emperor Octavius Grabs!
Moe, Larry, and Curly are engaged to the three daughters of a prison warden …. Who's lost his job.  The Stooges break into the prison to get proof of the illegal shenanigans going on inside.
The Three Stooges (Moe, Larry, Curly) begin by selling crooked race tips, help a dispossessed mother & child, win a race & then buy a talking horse?
The Three Stooges find a foundling on their doorstep. They do their comic best to feed — and change — the baby. But then they realize that the child's been kidnapped!